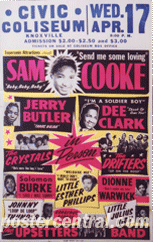 I'LL NEVER FORGET the time when, back in 1972, I asked a fellow Bob Dylan collector if Columbia Records had ever released Dylan's "Blowin' In The Wind" as a single.  If so, I would have to commence a search for it, to complete my nascent collection of Dylan 45s.  "No, I don't think so," he replied authoritatively.  "And they definitely didn't release 'Mixed Up Confusion' here; only in Holland."
I eventually discovered, of course, that my friend was wrong on both counts.  Those were the days before price guides, before fanzines, even before Goldmine.  For record collectors, those were the days of discovery.  Half the fun was finding out that something existed; the other half was tracking down a copy.  Without books, magazines or (ahem) the Internet to guide the way, word of mouth was everything.
That's exactly where the hobby of poster collecting continues to exist today.  Collectible music posters of all kinds--especially old concert posters—continue to be highly collectible, although the marketplace shows signs now of being very fickle and picky.  Outside of the well-organized psychedelic poster world, there continues to be very little organized knowledge about just what exists out there, what should exist and therefore be hunted for, and what price range anything should fall into.  The cardboard poster genre remains a hobby that still has very few ground rules, with collectors scoring rare posters for a bargain one day, and then getting burned by an expensive counterfeit the next.  But it remains an interesting time for the hobby, and those bitten by the bug are confident that it's a hobby with a long future.  CDs?  MP3s?  We could be taking our music by pill someday, but there will always be room on the wall for a good poster.
It's usually a dirty word when associated with the arts, but this article is about advertising posters.  These things were produced to advertise, and sell, concert tickets and record albums.  Plain and simple.  As a result, relatively few concert posters and record company promotional posters were saved before the early '70s, and collectors are now scrambling after them with the enthusiasm of a scavenger hunter.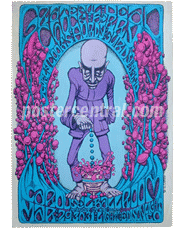 Outside The Psychedelic Scene
Only San Francisco's psychedelic poster explosion of the late '60s has been documented in any significant way; some would even say it has been over-documented.  It was first chronicled in a Life magazine cover story in the late '60s, and has been carefully catalogued ever since in books like the famous coffee-table tome The Art Of Rock and Eric King's meticulously researched book on the subject.  There was even a magazine dedicated exclusively to the genre, Off The Wall, published for a short while in the mid-'90s by Wes Wilson--who was promoter Bill Graham's first poster artist.
But in this article, we'll look at all the other interesting music posters out there.  I certainly cast no aspersions on the psychedelic poster scene and the brilliant artists who created the most original body of art ever associated with rock music.  But I find that most people who collect Fillmore, Family Dog and other associated psychedelic posters are only mildly interested--if at all--in posters of any other ilk.  And most people who collect concert posters outside of the psychedelic oeuvre usually don't give two hoots about the so-called "numbered series" of posters associated with promoters like Graham, Chet Helms, Russ Gibb, etc.
So how does one refer to all of these "other" music posters, which fall outside the sphere of psychedelia?  For many years, independent dealer Andrew Hawley referred to them as "oddball" posters, which was as good a handle as any.  How else would you label a group that includes a Hank Williams concert poster from the '40s, a Doors window card from the '60s, and a U2 telephone-pole poster from the '80s?  (Before you laugh, I've had all three of those on my wall before, practically side-by-side.)
The catch-all term which collectors use is "boxing-style poster," most commonly referring to any cardboard concert poster that has straightforward, readable print, as opposed to a psychedelic design with highly stylized lettering that is sometimes a challenge to read.  (More on this in a moment.)
From the collector's point of view, there's an important difference between collecting boxing-style posters and acquiring the numbered psychedelic posters.  Pick a number at random between one and 287, which represents the original Bill Graham series.  OK; number 66.  If you want that poster, you can call just about any key poster dealer--at any point in the future--and buy it.  The only questions that will arise are "what condition" and "how much."  They're like baseball cards; the rarest specimen will always be available, for a price.  But let's say you're lucky enough to run across, say, a Jerry Lee Lewis concert poster from his 1950s salad days, from any venue in any city and in any condition.  If you want it, you'd better grab it - because it may be a long time before you see another one.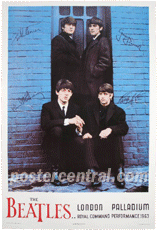 Just What Is Collectible?
Concert posters were printed up in small quantities for a very specific purpose.  Once their function was fulfilled, they were usually torn down and thrown away.  Nobody really saved them until rock-music collecting started becoming a serious hobby in the early- to mid-'70s. 
In this article, we won't bother covering posters that haven't caught on with collectors yet.  Commercial posters--aka "head shop" or "personality" posters--were officially licensed and sold in head shops and department stores starting in the mid-'60s, and are still being sold today.  In the past, collectors have avoided these like the plague because they're fairly bland aesthetically, there were so many different ones made, they were usually printed in large quantities, and they didn't have an "expiration date," so they often languished forever.  A great example of this is the Beatles' "London Palladium - Royal Command Performance 1963" poster licensed by NEMS for commercial sale, with the boys up against a bright blue wall.  Neophytes often call this a "concert poster," but nothing could be further from the truth. I've never heard of anyone who collects commercial Beatles posters, but one can only imagine how many different ones have been made since 1964.
Most poster collectors also avoid reprints, or "knock-offs," altogether.  Although second and even third printings remain acceptable with the psychedelic crowd, most other poster collectors insist on an original.  The extremely cheap prices found on even the best repros underscores this point.  Actually, most music collectors probably have a reprint or two somewhere in their collection, maybe even framed on their wall, but only for decoration, not as a collectible.
Posters that came with LPs, folded up inside the record jacket--such as Pink Floyd's Dark Side of the Moon and David Bowie's The Man Who Sold the World--generally have little or no separate value of their own.  One exception to this rule is the Milton Glaser Bob Dylan poster found inside Dylan's 1967 Greatest Hits album – that poster has taken on a life of its own and remains very popular.
Finally, movie posters involving rock artists seem to have settled into a different collecting niche, even though they, too, were made strictly for advertising.  For one thing, movie buffs have been saving the standard-sized "one-sheet" posters for much longer than the music community has.  So although they're among the most aesthetically pleasing of all music posters, they're generally "around" in sufficient supply to meet demand and mute a collector's excitement.  One-sheets from Elvis Presley's string of movies are everywhere, but it's very difficult to find an original Elvis concert poster or RCA promo poster from the '50s or '60s.
So where does one start with concert posters?  They're as varied in size, shape, color, typeface, scarcity, condition, and value as the music they present.  Some people collect just one artist or genre; others, like myself, can appreciate a good, rare poster for anybody ranging from Frank Sinatra to The Clash, from Jimmie Rodgers to Jimi Hendrix, from Bob Dylan and The Beatles to Billie Holiday. 
Most collectors only want concert posters that were printed for one specific purpose: to sell tickets.  The sole reason the poster exists is that, once upon a time, it was printed up and posted somewhere to draw paying customers to a concert.  (That's why there are so few legitimate Beatles concert posters after they became famous in 1963/4; posters were simply not needed to sell out a show, so why go to the expense?  Fans were already being turned away by the thousands, just by word of mouth.)
In all fairness, this rule does apply to a certain percentage of Bill Graham/Family Dog/Avalon collectors as well.  Many collect only first printings, which guarantees that the poster was printed before the concert occurred and, therefore, was truly intended to promote the show.  Once you get to a certain point in Graham's series, however, that definition starts to break down.  To say they were printed for advertising purposes becomes a half-truth.  Graham would print several thousand extra copies during a poster's first printing--again, before the concert--and distribute them to poster shops to be sold as souvenirs.  Collectors of these posters correctly argue that, if they're all from the same print run, who's to say that a mint copy purchased from a store is any less valid than one which spent two months on a telephone pole? 
Then there's the matter of several Bill Graham concert posters having had a first and second printing before the concert, fully legitimizing the second printing – or does it?  You'll have to ask your hard-core first-printing collector.
Boxing-style poster collectors don't worry about that, however, because the formula is simple: the posters were printed in small quantities, used for a short period of time just to get butts in seats, and then disposed of.  Now, decades later, the challenge is on: try to find one that survived, for whatever reason, in whatever condition.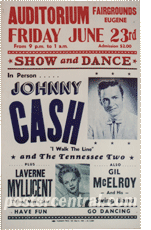 What's Hot & What's Warm
In 1995, I started this section in Goldmine by stating that the hottest posters in the collectibles market could be summed up with two B's: Beatles and Boxing Style. I don't see any reason to change that for this PosterCentral.com update.  As everyone knows, the Beatles have pulled away from the pack and are, without question, the most collectible musical act of the 20th century.  Prices for all quality Beatles memorabilia have continued to climb through the years, but their posters have really escalated.  Just about any original Beatles poster from the '60s--from either side of the Atlantic--is worth a healthy chunk of money; we'll get into much of that later. 
But boxing style?  A little more explanation is probably needed.  In its most casual form, the term "boxing style" today refers to any cardboard concert poster that doesn't feature a psychedelic design.  The field is huge, because it can involve anybody from Glenn Miller to Lloyd Price to Dolly Parton to The Rolling Stones. 
"Boxing-style" concert posters – sometimes called "window cards" or even "broadsides" - were usually made out of cardboard, or in the '60s, occasionally a thinner "card stock."  Concert posters in use were tacked up on buildings or telephone poles, taped into the windows of retail establishments, or displayed any way that would gather a lot of eyeballs.  The most common size – to this day – is 14x22", with the second-most common being the "jumbo" size of 22x28".  But lots of other sizes right around those figures also proliferated.
They could feature one, two or three acts, or a whole bill of artists, frequently including a picture of each one.  Sensational words were often used to create excitement and sell tickets.  Oftentimes an artist's records were mentioned, alternating between big, recognizable hits and songs you've never heard of.  I've always felt the former were listed to sell tickets, the latter to plug the artist's newest single, which only sometimes would become a hit.
Jacaeber Kastor was the founder and owner of New York's Psychedelic Solutions poster shop, whose doors are now closed.  We asked him about the origin of the term "boxing style."  "Boxing posters from as far back as the '20s and '30s generally had a picture of each opponent in a square box, and big, bold lettering," Kastor says.  "Usually the main bout would have a big picture, and preliminary bouts would have smaller pictures, if any.  It was much the same with early music posters.  'Boxing style' usually refers to plain photographs, big lettering that is easy to read, and lack of artistic design.  They were pretty much just straight advertising.  But as soon as the inks became available, they started using bright, day-glo colors, and they started getting pretty wild."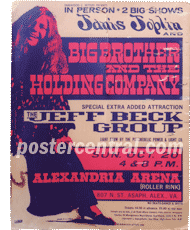 The Good Old Days
Rock critic Joel Selvin of the San Francisco Chronicle is the owner of vintage concert posters by Elvis Presley, James Brown and Jimmy Reed, among others.  "I started collecting these things [in the mid-'80s]," Selvin says, "and they were always really hard to find; one here, one there.  The regulation poster collectors were just unaware of them, entirely.  They'd say, 'Do you want some Avalons?'  'No, I want rock 'n' roll posters.  I'd find them here and there, in people's collections, old concert posters on walls where I'd talk them off... that kind of stuff.  In those days, the perception was, 'A good first-printing Avalon... that's a $350-$450 poster.  And this thing?  I'll let you have it for $125.'  For my 1967 Otis Redding concert poster, I paid $75; I could get $1000 for it now, in a second.  I paid $100 for my Ike & Tina Turner concert poster, and the guy was astonished to be getting that kind of money for it.
"In the early '90s," Selvin adds, "you could still get these things for nothing.  In the auctions, people would be fighting over the Jimi Hendrix concert posters, and I'd be the only person bidding on the Roy Orbison.  All I had to do was beat the reserve." 
John Goddard was the owner of Village Music in Mill Valley, CA, one of the most unique and respected record stores in America, but which eventually closed its doors a few years ago.  Its customers over the years included people like Mick Jagger, Elvis Costello, Bonnie Raitt, B.B. King and the late Jerry Garcia.  In his heyday, Goddard had assembled one of the nation's best displays of boxing style posters on his walls, most of them collected in the early days, before prices went crazy.  To the best of his recollection, Goddard pulled down his first poster from the front of the Oakland Auditorium in July of 1959.
"I would say I bought my first boxing style poster [in the late '70s]," Goddard says.  "Before that, they almost never turned up for sale.  People just didn't pay any attention to them, even in the '60s.  You'd find them in the basements of record stores, or every once in a while one would turn up at the flea market.  It's kind of a new phenomenon [in 1995, when this story was first written].  If I had put a $50 price tag on a couple of my posters [in 1980], people would have laughed at me."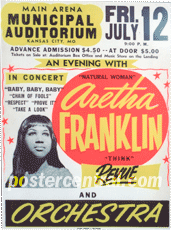 Enter The Rich Guys
A lot of people pin the beginning of the poster price boom on the major auction houses--which started auctioning off rock posters in the early '80s--and the arrival of the Hard Rock Cafe on the scene.  The Hard Rock had a lot of restaurants to stock and was well-financed, and therefore had a voracious appetite for the best rock memorabilia.  That combination certainly started the spiraling of Beatles prices by the end of the '80s, and got the poster market running and gunning by the mid-'90s.
Goddard of Village Music echoed the feelings of many when he told me in 1995, "The Hard Rock Cafe has single-handedly destroyed the market, as far as collectors go.  They've made it impossible for people to afford anything.  When you're bidding against the Hard Rock Cafe, Joe Blow Collector doesn't have a prayer.  I don't look at it as, 'they've quadrupled the value of my collection'; I look at it as, 'they've made it impossible for me to buy anything more.'"
Of course, the Hard Rock Café has gone through the usual business upheavals since then, including a change in ownership, and is no longer perceived as a major acquirer of vintage posters.  But in 1995, to get a response to Goddard's popular sentiment, I contacted Steve Routhier, who was then the Vice President/Creative Director of the Hard Rock.  A magazine article I once saw on Routhier was titled "The Best Job In The World?," because he oversaw the purchasing of posters (and all rock memorabilia) for the Hard Rock chain, with a seemingly unlimited budget.
Responding to the charges, Routhier said at the time, "I don't think we can be given single-point responsibility for raising the price of an entire market.  That's just looking for an easy excuse for a scapegoat.  The acknowledgment of rock posters as an important cultural signpost was inevitable.  It wasn't just us; however, we certainly played a part in it.
"It's a misnomer to say the Hard Rock drove it all up because we had very little impact during the early '90s, when it really took off.  We don't really buy the most expensive stuff anymore, and haven't for quite some time, because it's become a bit... out of reach.  We're now [in 1995] in what I refer to as the 'three-quarter' zone, where the prices haven't gotten completely out of whack, and there's still vast amounts of material that is good. 
"We're in the enviable position of having started early and amassed a really good nucleus.  There are a great many posters that are very expensive now, that we've already got.  And we got them before they reached those critical levels. 
"Sometimes I think our reputation is quite a bit larger than reality.  The poster collecting world is huge; it's monstrous.  I can easily think of collectors that can outdo us in virtually any idiom, one at a time.  But our overall collection, because of its breadth--not just its size--makes it unique, I think."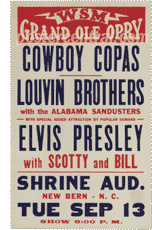 Stiff Competition
The biggest complaint among collectors is that it's just a few well-off buyers who are driving prices up and controlling the market.  There are several wealthy individual collectors who regularly fight for the best pieces.  So where does that leave the average Joe who decides that he wants an authentic Elvis Presley concert poster?  Fighting against the money people now, that's where. 
"There are a lot of people who collect posters now who aren't interested in anything worth less than [several] thousand dollars," Kastor says.  "Now that some of the prices are hitting good numbers, some people are cocking an eyebrow and taking a look at the rock game.  They consider rock posters a poor relative to the poster world in general. The average advertising poster from Europe from the 1920s or '30s goes for 10, 15, 20 thousand dollars.  Let's face it, a lot of the world is interested only when they see that something is worth a lot.  The poor rock collector may grumble and moan, and say 'This stuff's getting way too expensive,' but it's just the very best pieces that are getting expensive.  If they just looked around, there's tons of stuff that's very reasonable." 
Supply plays a huge role in a rare poster's price, especially at the upper levels.  If only 10 or 15 copies exist of a certain rare record, like the original Freewheelin' Bob Dylan album, that's considered extremely rare and it will usually command an extraordinary price.  But in the world of rare posters, 10 to 15 copies is almost considered common, or at least collectors will say "it's around."  One of those 15 is bound to go up for sale every year or two, so there's no reason to panic.  (This is directly opposed to rules governing the psychedelic numbered series, where everybody's trying to complete a set, in which case a couple of dozen known copies is considered majorly rare.)
For example, there is only one known copy of several of the posters pictured here throughout PosterCentral.com, and less than five known copies of many more of them.  "Known" is a relative term, however, referring just to the network of major poster collectors and dealers who stay in touch with each other.  But that only scratches the surface; several other copies may (probably) exist in closets throughout America, or so we can hope.  It's a huge country, with tens of millions of closets and garages, and a third of a billion people with possessions. 
So if I state that there isn't a fully intact 1955 Chuck Berry concert poster because "nobody knows of one," there could easily be a couple of them buried in America's closets.  Or better yet, there could be a "printer's stash" of several stone-mint copies sitting in a warehouse somewhere, waiting to be discovered.  Sound preposterous?  It's already happened with that exact poster (Chuck Berry in Chattanooga, TN, Oct. 14, 1955).
In any case, with such small numbers known for many of these posters, the hungry and aggressive buyers will beat each other up when a choice item goes on sale.  After each of these people get their copy--and there may only be three to five of them fighting it out at times, or sometimes only two--then reality sets in.  "If you can afford to just wait for these people to get their copies, it then hits the general market and the price drops down considerably," Kastor observes.
Like any business, demand drives prices, and the demand for a poster is largely dictated by its appearance.  A good example of this is the poster made to promote the Madison, WI show that Otis Redding was en route to when his plane crashed in December of 1967.  Although fairly scarce, and involving a very significant event historically, the poster lacks charisma and is considered flat-out ugly by many collectors.  At two poster expos hosted by Off The Wall magazine in San Francisco in the mid-'90s, a dealer was trying to sell the poster for $1900, with no takers.  If that had been a boxing-style poster with a picture of Otis and a few song titles, it would have sold in an instant for three times that much.  (P.S. Can you identify which later-famous band was the opening act called The Grim Reapers? Sorry if it was a cheap trick for us to throw in a quiz like that.)
As a result, poster collectors are often hesitant to buy something "sight unseen," and justifiably so.  I've been tremendously excited waiting for a photo or jpeg to arrive, only to be crushed with disappointment when it does.  Obviously, common sense enters into it, too; if you have a chance to buy a good poster through the mail for a bargain price and the seller can't provide a photo, sometimes you just do it and hope for the best.  Don't make the mistake I did: I once missed out on a Rolling Stones 1964 concert poster just because I insisted on seeing a photo of it first.  While I was waiting week after week for the dealer to take a photo of the poster (this was in the days before the Internet), he went and sold it to someone who walked in off the street, because that was easier.  (Of course, you have to be very wary of counterfeits when buying sight-unseen; more on that soon.)
From an appearance standpoint, everyone's favorite posters seem to be the classic boxing style posters produced by companies like Globe out of Baltimore, Posters Inc. in Philadelphia, Colby out of Los Angeles, Tilghman Press in Oakland (serving the Pacific Northwest), and Murray Poster in New York City.  Among the posters produced by those companies, arguably the best-looking ones are the colorful multi-act concert posters such as "Dick Clark's Caravan Of Stars" and "The Biggest Show Of Stars."  Not only are they visually the most attractive of all boxing style posters, but those talent line-ups... it's hard to imagine today that you once could have paid $2.00 and seen Buddy Holly & The Crickets, Fats Domino, Chuck Berry, The Everly Brothers, Frankie Lymon, The Drifters, Eddie Cochran, LaVern Baker and Clyde McPhatter, all in a single concert (Biggest Show Of Stars '57 concert poster, Topeka, Kansas, Nov. 5, 1957).  It just numbs the mind.  Given the ability to travel back in time, with today's hindsight, we'd stand in line for a week to get the best seat for those shows.
But back then, those concerts didn't generate much money, and you may wonder how the promoters could afford to print up colorful posters for each individual gig.  The answer is, they couldn't--and didn't.  Before each tour started, the national tour promoter would print up a large number of posters that pictured the artists booked on the tour, often with splashy colors, song titles, etc.  But they would leave a blank space at the top where you'd normally find the concert date, venue information and ticket prices.  These are commonly referred to as concert-poster tour blanks.  The tour organizer would then get the pertinent information from each stop on the tour, and then print and send out a few of the posters with their own city, venue, ticket prices and such stamped into the top.  Or sometimes they'd just send out a few blanks and the local promoter would use their own printer, or even scribble it in by hand.  Presto--a snazzy, colorful poster for a concert tour coming to Anytown, U.S.A.
When the concert information was printed or written in, local promoters seldom included the year, because it wasn't necessary.  So poster collectors frequently have to refer to a "perpetual calendar" or "100-year calendar" to determine the exact year.  If you know the concert was on a Tuesday, May 9, you go through the perpetual calendar and find the possible years it could have been (narrowing it down to the correct era, of course).  With a couple of other hints from the poster itself--ticket prices, hit records listed, opening acts--it's usually easy to determine the year of any poster.  It gets more difficult with lesser-known acts of the '30s and '40s, because some of them are quite obscure.  On more than one occasion, PosterCentral.com has tried to find information about a big-band poster from an unknown bandleader, Googled their name and came up with absolutely nothing, not a single bit of information.
Collectors often run across old tour blanks without any of the custom information printed or filled in.  These are obviously leftovers that probably weren't used, and just kept in storage.  Generally speaking, collectors prefer a poster that has the date and venue information filled in, because the poster is more aesthetically pleasing with the information, and looks sort of incomplete without it – even if the poster's as clean as a whistle.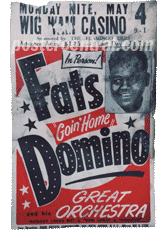 Condition Not Important
A lot of concert posters that were used to sell tickets 30-40 years ago look that way: they may be a bit creased or faded, have tape stains and tack holes, and perhaps an overall weather-beaten look.  But cardboard poster collectors don't seem to mind, which is another area where they differ from the norm.  Psychedelic poster freaks want their posters in the best condition possible; their grading techniques now resemble those used in the baseball card world, where an off-center image or slight surface crease can reduce a card's value dramatically.  Collectors of other posters, the ones we're covering in this article, aren't nearly as concerned with condition.  For one thing, they often don't have a choice.  I remember buying a concert poster for one of Bruce Springsteen's earliest bands, Steel Mill, appearing at a New Jersey college gym in December 1969.  It had tack holes, bent corners, a crease through Bruce's face, some yellowing, even a water stain at the bottom.  But what was I supposed to do--wait for another one to come along?  Since that time, I've seen others for sale… about every 3-4 years.
But there's an even more compelling reason why most concert-poster collectors don't mind signs of aging and weathering: authenticity.  Authenticity, as in resting assured that you have a true original, not a reprint; and authenticity, as in having a poster that looks cool, that looks like it was really there, hanging on a telephone pole outside the auditorium the day of the concert, through rain or shine.  Seasoned collector Joel Selvin states flatly: "Poster collecting is the one hobby where 'mint' is not your most desirable condition."
Although I agree with that viewpoint, it does open up a can of worms and can, understandably, drive dealers crazy.  If somebody came to me with a mint-condition Buddy Holly concert poster from 1957, I'm not going to turn around and walk away.  But I would proceed with extreme caution.  For anytime there's money to be made, there are unscrupulous counterfeiters.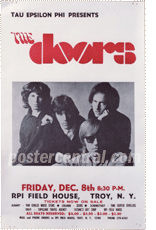 The Most Common Question
That leads to the most common question asked of us at PosterCentral.com: How do you know if a poster is real or not?  Whether you run across one at a swap meet, through a network of connections, or from a dealer that you may or may not know... how do you protect yourself from getting ripped off?  We will offer some useful guidelines here, but also be sure to read our concert poster FAQs and see our concert poster bootlegs section.
Phony posters take two forms: those that are copies of legitimate concert posters, and those that are dreamed up, concocted out of thin air, by the counterfeiter.  In the latter case, the bootlegger may have done his research and produced a "poster" for a show that actually happened, garnering his information from places like newspaper ads.  But there are also phony concert posters out there for shows that never even happened.
As with many hobbies, the most important factor in judging a poster's authenticity is an intangible known as "gut feeling."  Unfortunately, that only comes with experience.  For those just getting started, there are certain physical characteristics to look for: natural aging of the paper or cardboard, crisp images and lettering, and correct information regarding the artists, song titles and the time period (which, surprisingly, bootleggers often get wrong).  But interestingly, in interviewing the major poster dealers around the country, I found that the human element came up as perhaps the best way to judge a poster's authenticity.  To a person, they recommended getting to know the seller as much as possible and trying to determine where the poster originally came from.  Try to uncover the poster's "provenance," which my Webster's dictionary defines in two words as "origin, source." 
"When you're dealing with rarer and older items, a poster's provenance gives the average person the best chance to determine [authenticity]," says Jacaeber Kastor.   "Talk to the person and listen to their story, see if it's credible.  You've got to get an honest answer from them, even if it's 'I don't know.'  If they're hustling you or pushing you, that's not a good sign.  A lot of times, provenance is all that an amateur poster hound has to go on." 
Says Debi Jacobson of L'Imagerie, "I think you have to be a good judge of character, and a lot of people are not, because they let greed get in the way of reason.  You have to be a good judge of people.  If anything feels fishy about the person you're dealing with, and you're worried about it, you should trust your instincts." 
That's fine if you're dealing with a store or an individual that you can check up on.  But let's say you run across a poster in a junk shop and the owner obviously doesn't have a clue.  Or you discover a potential gem while traveling, and it's a matter of either grabbing it now or losing it.  What does one do?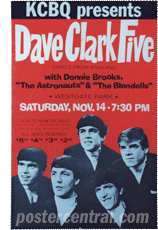 Signs To Look For
The first sign to look for is natural aging of the cardboard or paper.  If it's in beat-up condition, that's a good start; if it's in fairly clean condition, it should still appear to be 30, 40, or whatever years old.  On even the best-kept posters, this will still usually creep in as slight yellowing of the paper or browning of the cardboard, often called "toning."  "It's common sense," Kastor says.  "When you're looking at something from the '50s, generally it shouldn't look like it just came out of a box.  It could have, but that's very rare." 
Counterfeiters often attempt to artificially "age" a poster to make it appear old and weathered.  This is getting into serious stuff, but it's been done.  Unscrupulous printers can either obtain old, blank stock to begin with and print upon that; or they can attempt to age a new piece of board by doing things like "sunburning" it in direct sunlight or giving it modern-day water stains.  The resulting poster may resemble a farce to an expert, but not always, as we'll discover in a few moments.  But expert or no, we all know the feeling of coming within an inch of a prized collector's item and "wanting it so bad" that we begin to delude ourselves.  I once bought a couple of Elvis Presley 1954 concert posters through the mail for $100 each, unable to believe my good fortune.  Despite the letter of authenticity that came with them, I eventually realized that the water stains weren't old, the cardboard stock was recent, and my ship hadn't come in.  I ended up giving one away to a friend.
Wayne Rogers is one of the country's most seasoned dealers in rock memorabilia and posters, and knows the story all too well.  "A friend of mine was once offered a Sam Cooke/Otis Redding/Wilson Pickett poster from July 4, 1963 at the Fox Paramount in Brooklyn," Rogers says.  "There's a [bootleg] of that going around; I think it's just a composite poster that was made up.  In this case, they had done a poor job of artificially 'aging' it.  I told him to walk away from it.  But I can certainly think of instances where people were so gullible, they wanted to believe it so bad, that they just overlooked everything." 
Knowing what to look for simply comes from examining posters of all different kinds over a period of time.  But it's not that daunting; after just a short period of time you start to develop a feel for it.  "As you become more familiar with posters, you build up a feeling for what passes for real age and what looks like false aging," Kastor says. 
One of the toughest judgment calls to make arises when an old concert poster is in mint condition.  I pointed out earlier that collectors usually want posters that were used to sell tickets.  But when posters are printed, frequently there are overruns--extra copies that don't get used.  These are often kept and stored for years by the promoter, eventually pulled out and passed into the public's hands.  Although collectors may raise an eyebrow and initially view them with suspicion, if it can be established that they're the real McCoy, they should be able to sell for a higher price than any other grade.
Paul Wultz of San Diego, Calif. has been collecting concert posters for longer than he cares to remember.  "I once had a Dave Clark Five poster that was stone mint, like it was just off the press," he says.  "But I got it at a Dave Clark Five press conference [in the mid-'60s] and never put it up, so it doesn't even have tack holes.  Just because a poster looks brand new doesn't mean it's not 40 years old.  It just depends on where and how things have been stored." 
The clarity of the poster's images can be a helpful guide.  If everything is sharp--the type face and photos--then it was probably printed from an original plate.  If things are a little fuzzy, that could be a sign of trouble.  But, like baseball cards, some originals can exist that were printed slightly "off-register," which shouldn't be confused with an overall weakness of image.  "I've seen original Globes and Murrays that 'bleed'," says Rogers.  "Yet we know they're real, so it was just a bad print run.  There's an exception to everything."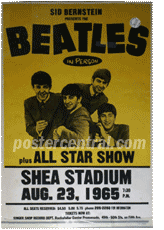 Down To A Science
Jacaeber Kastor seems to have developed a good technique for detecting phonies.  "Boxing style posters are often duplicated," he says.  "You have to be really careful.  The originals have a certain look to them.  They used a type of posterboard where the back is usually a different type of color, and texture, than the front surface.  It always seems like it's gray on the back, or at least a completely different type of surface and material than the front.  They used a cheap grade of posterboard and then laid a very thin paper facade on the front.  If you look closely, it's usually a very thin sheet of paper that's been glued on.  I've seen stacks of [the paper] where they haven't been glued onto the board yet. 
"Whereas a lot of the reprints are the same on the front and back; they're just printed directly onto the poster board.  That's a good tip, if you were going to cull this down to one for the lay person."
Some collectors keep an eye out for an official printer's union logo at the bottom of a poster, but again, so many have been made without them, that method isn't definitive.  Then there's the smell of a poster, believe it or not.  "A lot of times an original poster will actually smell old, dry and musty," the late Hank Thompson of Raleigh, NC, a major boxing-style collector in his day, told PosterCentral.com.  "I've held some that I couldn't smell a second time, they were so strong."  L'Imagerie's Jacobson tells of a time when the famous poster artist Rick Griffin was looking over some dubious posters and giving them a good whiff.  "Rick had a really good sense of smell," she says.  "He kept smelling them, and finally said, 'Man, these are new.  They smell mighty fresh to me.'"
You have to ask yourself if the poster would even be worth reprinting for someone looking to make money.  If it's a Pat Boone poster from the late '50s or a Rip Chords one from the mid-'60s, probably not.  But if it involves a musical icon of any sort--Streisand, Beatles, Hendrix, Stevie Ray Vaughan--or if it falls into any of the "hot" categories, then proceed to the next step.  "I would be very careful of the boxing style posters," says Jacobson.  "There are tons of those that are fakes." 
Educating oneself about a particular artist, or poster, can be helpful.  When "old posters" are dreamed up by profiteers and cranked out to fool the public, they often contain stupid mistakes.  Many people have purchased the cardboard telephone-pole poster for the Beatles' famous Shea Stadium concert in 1965--except that a poster was never made dedicated to just that show, which sold out in the wink of an eye.  More importantly, the bootleggers didn't always get the date right; a black & yellow version of the bootleg states "August 23, 1965," when, in fact, the actual gig was on August 15.  (They probably mixed it up with the Beatles' 1966 Shea appearance, which did fall on August 23.  And yes, there is a common bootleg poster of that show, too, in addition to the rare authentic ones.)
Wayne Rogers recalls an incident involving phony Shea posters at Beatlefest a few years ago.  "Some clowns came in with the posters on Friday night, saying 'old warehouse find!'  The things looked brand new; they shined and sparkled.  They wanted $200 each for them.  [The convention organizers] were suspicious and said something to them, so they left.  The next day, they brought them back and miraculously, during the night, the Sheas had transformed into weathered and aged posters!  Then [the bootleggers] were just kicked out.  What nailed it for me was that they were also selling Shea Stadium 'tour jackets' [which never existed].  But I've seen phony Shea's go for as much as $1,000 on a couple of different occasions."
Steve F'dor is a poster collector in Los Angeles who has uncovered more than one stash of old boxing style posters.  He takes a strong stand on authenticity, feeling that--given enough motive--bootleggers can overcome all of the above physical hurdles.  "There's no way to prove that a poster is original unless you know where it came from," F'dor says.  "If you don't get your poster from the source, try to find out where they got the poster from.  Trace it as far back as possible, until you're really convinced, because there's no other way to prove that it's authentic.  Even tracing ownership to earlier than the late '80s is good evidence, since repro's of this type of poster [boxing style] were virtually unknown prior to that time."
Even the best efforts can't prevent the occasional mistake, however, which just sort of goes with the territory.  "You've got to be careful and do your homework," says the Hard Rock's Steve Routhier.  "Once the attention is on that collectible, unscrupulous characters will create a mess.  We've bought things where we've gotten burned; I'll admit to that.  But you try to learn from it.  It sets up a more vigilant attitude."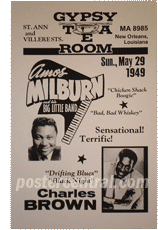 The New Orleans Disaster
Then there's the New Orleans fake concert posters debacle.  When the hobby was in its infancy in the early '90s, a huge stash of cardboard telephone-pole posters was "discovered" in a New Orleans warehouse.  It was truly a "dream find," with concert posters ranging from blues legends of the late '40s, rock 'n' rollers from the '50s and even some '60s rock superstars like Jimi Hendrix and The Beatles.  Anywhere from 25 to 50 different posters were said to be discovered, with the total quantity of posters running into the hundreds.
Most of America's major dealers went nuts for these posters, and they were quickly disseminated throughout the country, often with more than one middleman involved.  A lot of people shelled out several hundred dollars apiece for them.  (I swung a trade for three of them myself.)  On the surface, they looked great: old, weathered, black & white concert posters, all with photographs, many with ticket prices, song titles, the whole bit.  And they came from a source that makes collectors lie awake at night with excitement: a "warehouse find."
Then the house of cards collapsed.  Collectors realized that there were discrepancies in the information found on a couple of the posters, and once one poster is proved to be counterfeit, the whole batch becomes tainted.  "The biggest news to shake the rock poster world in the [early '90s] was the birthing of that New Orleans stash of posters, and then the subsequent discrediting of them," says Art Of Rock author Paul Grushkin.  "At first glance, that looked to be one of the great unearthed stashes of all time, and they were commanding quite high dollars.  And then, in its discrediting, they plummeted to less than zero."
As usual, a few stupid mistakes tripped up the pirates.  "I bought some of those crappy things," Hank Thompson recalled, when he was one of the nation's leading boxing style collectors.  "There's one poster in there with Little Richard and Guitar Slim, which says 'Saturday and Sunday, July 4 & 5.'  There are only two years in the '50s that fall into those dates.  One was 1953, but the songs listed under Little Richard hadn't come out yet.  The only other year was 1959, and if that were the case, Guitar Slim had died a few months prior to the concert.  Somebody didn't do his homework on that one.  And there's an Amos Milburn and Charles Brown one from 1949 that lists a couple of song titles that didn't come out until 1950 or '51."
Says Wayne Johnson of Rockaway Records, who got involved with the posters early, "They did a lot of work.  The guy who was selling them was involved with the original printer, and they did have some original parts and things.  But there were something like three examples that were totally impossible, that proved beyond a doubt that some were phony.  Then things just kind of fell together."  Rockaway ended up refunding every customer of theirs who had purchased one.
The bootleggers got as far as they did because the posters were apparently printed up on old, blank cardboard stock that already had natural aging.  But then they tried to embellish them.  "I noticed little splatter marks on the surface of my Hendrix poster that were supposed to look like some kind of natural condition," Jacaeber Kastor says.  "But I noticed that the same splatter marks were on the back, too, and I thought: How could something splatter the front and the back at the same time?  That didn't make any sense.  And it had these perfectly rounded corners, and I thought, 'What could round the corners and yet not damage any other part of the poster?'  The more I examined it, the more alarms went off."  Thompson adds, "I looked at my Fats Domino piece real close, which had light stains all over it.  Under magnification, it appeared to me that the ink was printed over the stain, rather than the stain being on top of the ink, the way it should have been."
Another common-sense factor also jumped out at Kastor.  "It didn't make sense that somebody would have a 1956 Elvis, a 1964 Beatles and a 1968 Hendrix," he says.  "Why would they have the three biggest acts in the world over a 13-year span, in about the same condition?  That was ridiculous.  I tried to get my money back within an hour of receiving the piece."
The New Orleans scam also reeked of another counterfeiting trait: quantity.  "Usually when a poster is bootlegged, forged or duplicated, they start to surface pretty quickly because people don't make one or two bootlegs, they make a lot of them," Kastor says.  "It's not difficult to determine when suddenly there are lots of this one particular poster around, when previously it was rare.  It's just common sense."
A letter of authenticity is always nice, and adds to the provenance of a collectible, but at the end of the day, it doesn't guarantee anything.  "I hired a printing expert with all the right credentials," says Johnson of the New Orleans stash, "and in his professional opinion, those posters were from the '50s and '60s.  He gave me this letter of authenticity and everything.  That kind of blew it for me on professional opinions."
Steve F'dor was probably the most militant and outspoken in discrediting the New Orleans posters.  "I've seen two letters of authenticity for the New Orleans posters, which the counterfeiter has now confessed to printing," he says.  "And one of them was from a printing museum, who should know as much about printing as anybody on the planet.  And yet, here's an example of the highest authority mistakenly authenticating a poster that's counterfeit."
So now what's a collector supposed to do?  Probably the best thing is to refer back to the very first rule: the human element.  Know the seller, or at least trust their motives.  "After the New Orleans experience, for me, it's so difficult now," says Rockaway's Johnson.  "I go more with the story now.  Dealing with someone that I know, and can trust, has a lot to do with it, and doing the research.  But even with that, I don't think there's any way to be 100% sure.  I really don't.  With today's technology, I can guarantee you all the experts can be fooled.  And as posters get more and more valuable, you're going to see more cases of fraud. 
"With the New Orleans posters, we were trying to find out if there was a scientific method to dating them, but we never found it.  Maybe there's a collector out there who's a lab technician and deals in this kind of stuff.  If we could do a dating test that's more precise, accurate for periods of less than 50 years, I'd love to find out."  So would the rest of the hobby.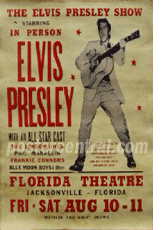 Other Famous Bootlegs
One hates to be the bearer of bad news, but an awful lot of other posters out there are knock-offs.  To the hobby's credit, some of them are marketed that way, and often feature a distinguishing characteristic.  But most of them don't.  There are a large number of repros of the famous red Woodstock Festival poster, especially the smaller version.  But there is also a good amount of originals as well, oftentimes signed by the artist.  Know your dealer. 
There's a famous Elvis Presley poster from Jacksonville, FL in August of 1956 that's been widely duplicated.  To distinguish the repros, Hatch Show Print added a line of fine print along the bottom of the poster.  That worked for a while, but then some unscrupulous people trimmed off the bottom half-inch of the poster and tried passing them off as originals.  Jim Sherraden of Hatch Show Print once told me that they'll never make that mistake again, that future reproduction disclaimers would be placed somewhere within a poster's artwork.
Beatles duplications are prolific, not surprisingly.  Besides the Shea Stadium ones mentioned earlier, a number of their early Liverpool concert posters have been reproduced, often "above board" with full explanation.  The late Johnny "Guitar" Byrne of Rory Storm & The Hurricanes, the group from which the Beatles plucked drummer Ringo Starr, saved many early Liverpool concert posters. He reproduced a few of them which featured the Beatles, usually with the date stamped on the back to identify them as repros.  These include the Beatles opening for Rory Storm & The Hurricanes at Hamburg's Kaiserkeller Club, October thru December of 1960, and "The Beetles" at the Tower Ballroom for a "Boxing Night Big Beat Ball" on 12/26/61.  The latter is a green & red Christmas-themed poster that pictures none of the bands involved, but rather, the face of St. Nick. 
Other Beatles concert repros run the gamut from "Operation Big Beat V" on September 14, 1962, to a Liverpool concert on June 14, 1963, where the Beatles shared the bill with Gerry & The Pacemakers.  The former example is very collector-friendly; the duplicators completely rearranged the poster's colors to identify the reprint.  (The original has a lot of blue and orange in its coloring, while the repro is entirely black, yellow and green.)  With the latter poster, however, it's very difficult to tell the original from the repro, because both feature the same gorgeous day-glo colors.  After closely examining the two side by side, I finally discovered a tiny printer's glitch which gave away the reprint.  I know one major dealer who was fooled into paying almost a thousand bucks for the knock-off.
There's also a well-known boot of a CORE Presents Bob Dylan concert poster from the University Regent Theater (in Syracuse, NY) from 11/3/63, which is very close to the original.  But I could go on and on.  This only scratches the surface of known counterfeit or second-pressing rock posters, and, outside of the New Orleans stash, doesn't really address all the boxing style duplicates out there.  In theory, PosterCentral.com would like to close this section by saying that the old adage holds true: if something is too good to be true, it probably is.  The trouble with that is, I've had a couple of instances where it was too good to be true, but it was true.  That is what's so exciting about the poster hobby.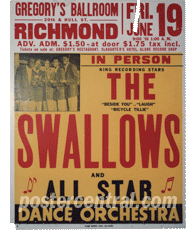 So How Do You Acquire Them?
For those without the money--or the desire--to buy on the open market, old posters can still be found in the nooks & crannies of the world.  Swap meets and yard sales remain the best possible place, if you combine the thrill of a totally unexpected discovery with the dirt-cheap prices that can be had.  Word of mouth can be pretty effective, too.
The more enterprising individuals try to seek out old concert promoters in their area, retired or not, to see what they might have stashed away.  North Carolina's Hank Thompson told me a tale that every collector will agonize over.  "There were two promoters here in Raleigh," Thompson says.  "One handled a lot of the white acts, and wrestling, but he died several years ago.  There was another promoter downtown who was the black promoter.  He's still living here in town, so I tracked him down.  When I found him, he said, 'I wish I'd known you five years ago.'  He had an office down in the basement of his house, with all his files and everything.  He said, 'My wife told me that my stuff was drawing bugs into the house, and to get rid of it.  I went down there one day and cleaned the whole thing out.  I had two or three of every poster and handbill for every concert that I ever handled from 1939 [up into the '70s].  I just dragged it all out to the street.'  Then he said, 'I would have been happy to have given it all to you.'
"I just sat there in a stupor for about ten minutes.  There's no telling what was there.  I keep hoping I'm going to find somebody who found the stuff piled in the street and hauled it home.  But I guess these are always the great stories, the ones that don't pan out. 
"The other good way to recover these things," Thompson added, regaining his composure, "is to just get lucky when they tear down a building that had used them for insulation.  It's happened a few times.  I have a Swallows poster from 1953 that was found in Richmond, when they tore down some tenement housing where somebody had used these posters for insulation.  There were 20 or so they could salvage; they all had nail holes in them, and some had pieces missing where they jerked them off the nail.  But the one I have looks like it could have been printed yesterday; the board is still white, the color is just brilliant.  The only thing I can figure is that it was one of the ones in the middle, because I know it's authentic."
One can only look back with envy at a collector like Paul Wultz, who found a novel way to score posters: be the person who puts them up.  "I was the guy who put up the first Bob Dylan posters in San Diego, in 1964," Wultz tells PosterCentral.com.  "He was coming to town, to a basketball gymnasium.  Dylan was my hero, but all my friends were ragging on me because he couldn't sing a lick.  I got hold of the promoter and asked if I could help with anything, like putting up the posters.  The guy says, 'Yeah, you can put the posters up, and we'll give you a couple of free tickets.'  So they gave me about 40 or 50 of the posters, and I just put them up on telephone poles, record store windows, around campus... and I kept three.  I gave one to a friend, eventually sold the other, and kept one."  Little did Wultz know at the time that he was stapling up thousand-dollar bills all over town, at the very least.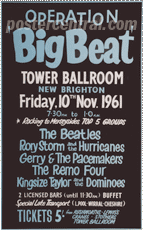 The Auction House Weighs In
Stephen Maycock was the Specialist In Charge Of Rock 'n' Roll Memorabilia for Sotheby's in London when this article was written.  We asked Maycock at the time if he felt that the market was peaking; if he ever envisioned a time when Beatles posters would be worth even more than what they were going for then.  After all, while certainly rare, there are quite a few different ones around.  "I can't predict the future," he said, "but there seems to be no slacking in the market.  They're getting scarcer and scarcer, because they don't seem to come around a second time.  Over the last ten years, I can't think of a single example that's come up a second time."  In other words, once a buyer gets a premium poster, they hang onto it. "And for each one that comes up and goes, that's one less in the pot." 
I'll point out here in my update for PosterCentral.com, however, that this subject is probably the most dicey of them all… supply and demand, fluctuating prices, predicting the future… it's as crazy as the stock market, and has treated collectors both wonderfully and cruelly over the years.  One has to proceed at their own comfort level.
A good restoration artist can make almost any poster look practically new; they can remove old water stains, bleach the whites, paint in faded colors, even restore pieces of the poster that have been torn away.  Some collectors love to restore old posters; others feel that, since you may get rid of the poster someday, you should let the next guy do it. 
The late collector Hank Thompson: "To me, what a poster is about are the visuals.  If you can improve the visuals without significantly altering the poster somehow, then I think it should be done.  I don't mess with it if it's just toned, or brown, and it has a couple of small tears or something."
Jacaeber Kastor of Psychedelic Solutions agrees.  "I think there's absolutely nothing wrong with restoration," he says.  "My problem is that they tend to overcharge, and they tend to be irregular in terms of the quality.  If you give a restoration person 10 posters, you're going to get three back that you're pretty pleased with, four that you feel like, 'Hmm, why did I really do this?,' and the last three where you go, 'I wish I hadn't done these.'  There are times when a bad restoration job may be worse than the damage it was attempting to repair.  The best way I can put it is the 'fucked-with' look.  Somebody once said to me, 'I don't want them if they look fucked with,' and that's stayed with me.  But that's the sign of a mediocre to poor restoration job. 
"I've tried about 10 or 12 different people over the last five years [as of 1995], and I find that's the only problem with restoration: there's not many good people, and they tend to be expensive.  All the good ones tend to graduate into paintings and fine art restoration.  Why would they want to work on a lowly poster that's only worth 500 bucks when they can work on a $50,000 painting?   They only do rock stuff because they think the material is cool."
Adds Debi Jacobson of L'Imagerie, "Restoration is a lot more complicated than even some of the restorers know.  I have different restorers that specialize in different things.  And the key to restoration is that it has to be reversible.  I'm not sure about the paint, but technically, you should be able to remove that, too. When they mount something on linen, it doesn't alter the poster; it's a reversible process."  The linen-mounting process is common with old movie posters, but the practice has not been embraced by the music-poster community.
The cost of restoring a poster--the right way--can set you back more than the poster originally cost. With expenses like that, of course, you want to be sure that you'll have the poster for a long time.  "Generally, I don't recommend that people restore posters if they're likely to come up with another copy in better condition," Kastor says.  "Don't waste your time and resources.  It's better just to be patient and wait for a better copy; you can always sell the old one.  But you might as well do it with those special pieces, where you're not likely to come up with another copy, especially if it's something you enjoy.
"A lot of people are afraid of getting tricked, that they're going to buy something and then find out later that it was restored.  It's nothing to be scared of.  Your own judgment is the final call; if the restoration job is so nice that it looks good, then... what the hell."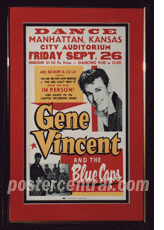 Care & Preservation
It's important to store and preserve any good poster in your collection so that it will withstand the ravages of time.  If you can afford it, museum-quality framing is a good insurance policy against father time, and will also greatly enhance the appearance of your poster.  Complete with a nice matte, museum-quality framing will run you several hundred dollars per poster, but most serious collectors feel that it's worth it.  The disadvantage is that most posters are harder to market, sell and ship if they're framed; many buyers, no matter how nice the frame, will say, "Lose the frame and just send me the poster."  That can be aesthetically heartbreaking if you went to a lot of trouble and expense to frame it.  But it's a personal decision much like house paint; everybody has a different idea of what style and colors look best.
The framing price should include special Plexiglas which filters out damaging ultraviolet rays, known alternately as "UF-3" or "UV-3" Plexiglas.  Over time, natural sunlight or florescent lighting will fade a poster's colors, so preventative steps need to be taken.  I visited one Los Angeles-area record store and found a lovely assortment of old and rare posters ringing the walls, framed, but was aghast that they all were markedly faded by hanging under florescent lights for a decade.  The owner just shrugged his shoulders in resignation, feeling the damage had already been done.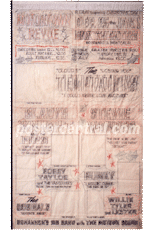 Original Artwork
The psychedelic poster community has wholeheartedly embraced the collecting of original artwork from which posters are made.  This is a natural, considering that each poster is, well, a work of art.  But there's never been much demand for the original artwork that produced the kind of posters discussed in this article.  But the Hard Rock Cafe's Steve Routhier had some interesting thoughts on the subject.
"From an investment standpoint," he says, "I think collecting original art which led to famous imagery----posters, album covers, any graphic--would be an eminently collectible part of the market.  There's a rather heated debate that's gone on for years, which asks: is illustrative original art really art at all?  And you get into this whole thing.  But I would cite people like Norman Rockwell.  A great bulk of his output was for magazines, so yes, he was an illustrator.  If I had an opportunity to buy an original Norman Rockwell illustration from the Saturday Evening Post at a good price?  I would think that that would be a good move.  In the same sense, I believe that about the poster world. 
"I definitely think there's some merit to the original piece.  Imagine having the original art for the Woodstock poster.  That's an iconographic image: red field, white dove, guitar neck.  It's the real thing; it's the seed that produced everything else.  It's the difference between the painting, and a lithograph of the painting."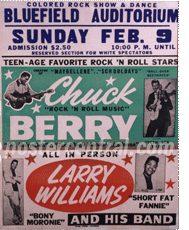 In Conclusion
Collecting boxing-style concert posters has emerged as a tremendously gratifying and rewarding hobby in the last few years, with many similarities to traditional record collecting.  But it has its differences, some of which require a new way of thinking.  Like any collector, I have a certain amount of disposable income that I'm able to spend on posters, which I keep tucked away.  But one must be very selective with what they buy, because the music poster universe is one without borders, without limits--you never know what's going to be discovered and put up for sale next week.  You may never see the same rare poster for sale twice, but you encounter a constant stream of good, rare, expensive posters to tempt your pocketbook.  If your annual budget is $5,000 for collectibles and you blow it all on one masterpiece, be prepared to feel remorse next month when something else pops up that you want just as bad.
Actually, that's a comforting thought to the average collector.  There are so many great, rare and unique music posters out there that I've had a couple of wealthy poster collectors admit to me that nobody will ever have everything they want.  There's always going to be something else that comes along and blows their mind.
An organized price guide would be handy, indeed, in settling the hobby down.  But given the nature of this beast, I'm not sure it would be possible, or practical, to do one.  It would be incomplete and outdated as soon as it was printed, because so many of these posters are unknown in collector's circles until one surfaces, and new rarities surface all the time.  Not to mention the many variables in the hobby, much more so than, say, the field of record collecting.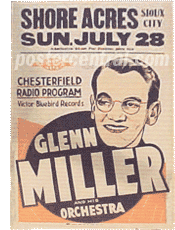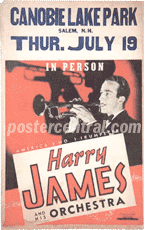 Looking Ahead (Remember, this was 15 years ago…)
So just what is going to be worth a significant amount of money in the future?  Have prices in the poster market peaked, or are these still the "baby stages" of the hobby, with a future so bright that poster collectors need to wear shades?  PosterCentral.com put the question to the money men; first up, the Hard Rock Cafe's Steve Routhier.  "I don't think you can sustain acceleration forever, and the acceleration over the last decade has been phenomenal," he says.  "So I think the rate of ascent will definitely slow down at some point."  (Present-day note: It has definitely done that now.)
"I think it will relate largely to where we are in terms of generation status," Routhier continues.  "There will come a time when people of my era will mostly be dead.  And whether or not these items are as relevant to the coming generations is always a question for speculation.  You never know; by the year 2020, people may be looking back at the '60s with a very revisionist attitude.  I'm just fantasizing here, but I think it's a possibility that people will be saying, 'Oh yeah, that's where all the trouble started--drugs, lack of discipline, the decay of the American family...'  In that case, revisionist history may render some of this stuff less valuable than we're imagining.  But it's all speculation.
"I remember my Mom and Dad with the big bands: Benny Goodman, Harry James, Glenn Miller.  That was the soundtrack for the World War II generation; they had tremendous emotion invested in that.  What's it mean to us?  Do you see big band posters continuing to increase in value exponentially?  That's a parallel I would draw."  (Editor: There's much less demand, and therefore much lower value, for big-band posters today.)
"I think psychedelic concert posters is an area that will continue to appreciate.  I don't think of those as just a manifestation of the psychedelic culture of the '60s.  What I think makes those posters valuable and desirable is that, in many ways, they're a milestone in the history of graphic art.  Forget about the subject; forget about the psychedelics.  That was offset printing at its most refined level, in my opinion.  They don't make posters that way anymore; the technique, and technology, has all changed.  And the way they used recycled imagery, twisted for the new world.  They stand as a moment in the history of graphic art that is important, and I think was incredibly influential, far beyond posters." 
I also put the investment question to Jeff Leve, a Los Angeles-based poster collector, memorabilia dealer and entrepreneur.  Leve has years of experience buying and selling rare posters from auction houses and individuals, and has been so successful at it that his opinion commands respect.  He follows the market closely, and has a lot of time and money invested in the future of rock memorabilia, much like a stock broker (although he's also been a legendary Beatles and Hendrix collector in the past).  He's well-schooled, and I found his comments to be erudite, insightful, and controversial. 
"There is a massive future in this, way past where it's at," Leve said back in 1995.  "But certain things have to take place.  All kinds of people have to get in on the frenzy, support this and make it an art form available to people with money.  They have to get it away from the fat slobs wearing t-shirts and into the suits and ties.  When the doctors start competing against the lawyers, and the lawyers start competing against the Hard Rocks, and the Hard Rocks start competing against the museums... it will be enormous amounts of money.  You may be looking at 20 years from now, but the business will still be young then.  Twenty years from now, rock 'n' roll will be 60 years old; what is that, in the scheme of life? 
"There are forces that are driving the market in a certain direction, and you should be able to see the future.  The Beatles, The Stones, Hendrix and Presley would probably be the four most collectible artists.  They all feature high demand coupled with continuing high prices.  Then you've got your second tier, but there's a big leap between a skyscraper and a bungalow."
We asked Leve what sets those four artists apart.  "To me, the key to somebody being highly collectible on a continuing basis is the cultural impact they've made on people's lives," he said.  "That's what puts the Stones and Beatles in the upper stratosphere.
(Present-day note: PosterCentral.com wants to acknowledge that Routhier and Leve may have different opinions now, 15 years later, but this article is an "updated reprint" with no new interviews conducted.)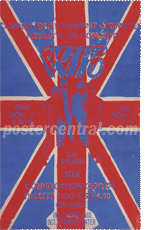 Forget Madonna and Prince
"I also think that artists have to be perceived as real, which puts a stake in the heart of Madonna, Prince and Michael Jackson," Leve added.  "They assuredly are this decade's phenomena, and yet they will not remain popular and will not be perceived as highly collectible.  There is a continued lack of interest in their guitars and clothing, and their prices will continue to plummet, because I don't think they're going to be viewed as significant in their artistry.  They'll be viewed purely as cultural phenomena.  I think you need that rare blend of cultural phenomena and artistry.  In 10 years, you're almost going to need sociologists to explain the collectibles market."
We asked Leve why rare posters by key artists like The Who and Eric Clapton don't generate nearly the money of, say, the Stones or Hendrix.  "Clapton and The Who are worthless," he said.  "For the scarcity of what you're buying, they're tremendously inexpensive.  Nobody cares; they just do not collect Clapton, for any money.  Maybe because he's alive, or maybe because he's a quiet person, not an outspoken, colorful character. 
"And I do not understand The Who's lack of prominence in the collectibles field.  Is it a lack of radio hits?  I don't know.  Clearly they had everything: the music was great, they're colorful, they played at Woodstock, a member died, Townshend and Daltrey are outrageous stage performers... they're somewhat collectible, they're not a total nothing.  But the demand is just not there, for their phonograph records or their posters.  Did The Who affect people's lives culturally?  Probably not; there are very few artists who have.  Bob Dylan concert posters are also relatively undervalued, considering his contribution to music and music history.  I think he's a bargain.  Collectibly speaking, Dylan is not in the stratosphere. 
"There's also a simple phenomenon to consider: 'bandwagonism.'  There is no bandwagon for The Who, and there never has been.  They're enjoyed by a select group of people, and it never grows beyond that.  'Bandwagonism' means you want to do it just because somebody else does it.  In collecting, The Beatles are the ultimate example.  Why does a Ferrari sell for more than a Porsche?  Is it a better car?  Not necessarily; it may be a worse car.  But it sells for more because it has the image of being worth more." 
But putting Beatles and Stones posters into the Ferrari category puts them out of reach to everyone but the well-off, which is very anti-rock 'n' roll.  "Everything is out of touch for everyone but the well off," Leve replied.  "That's just life.  Only the well-off fly first class; that's just how it is.  There is more money out there than there is posters to buy.  And besides, it's all relative; there are plenty of people who think that $100 for a poster is too expensive.
"Posters are undervalued.  When you have a neat poster hanging on your wall, it's not like a [collectible] phonograph record, where you have to explain to somebody, 'It's the yellow label that makes it.'  Nobody cares.  But when they look at a poster, it can be pretty cool.
"Posters are worth the money because of what they represent.  At their best, they represent a turning point in history, in the history of rock 'n' roll and the history of music.  A '50s concert poster represents the dawning of a new age.  It represents the outing of the big bands, the outing of the Pat Boones, and the beginning of the Chuck Berrys and Little Richards.  It's the beginning of history for modern rock 'n' roll music."





Pete Howard was the publisher and editor of ICE magazine for 19 years, and was a Contributing Editor to Rolling Stone magazine for seven.  He now operates this Web site, PosterCentral.com.  Pete welcomes letters and communication regarding collectible music posters, and will endeavor to help readers appraise their posters.  He can be reached by phone at 805.540.0020, via e-mail at pete@postercentral.com, or by snail mail at PO Box 3045, San Luis Obispo, California, 93403 U.S.A.
For assistance with this article, including photographs, Pete would like to thank the following: Jeff Augsburger, Ken Barnes, Bill Bentley, Johnny "Guitar" Byrne, Michael Dean, Steve Derda, Erik Flannigan, Tony Fornaro, Ron Furmanek, Bob Greenwald, Andrew Hawley, Stephen Blake Howard, Gary Johnson, Wayne Johnson, Jacaeber Kastor, Doug Leftwich, Jeff Leve, Wayne Rogers, Ric Ross, Joel Selvin, Billy Smith, Scott Talbert, the late Hank Thompson, the late Barry Tucker, Paul Wane, Paul Wultz and Cliff Yamasaki.
Details on the posters found above:
Supersonic Attractions Presents Sam Cooke, Jerry Butler, Dee Clark, The Crystals, The Drifters, Solomon Burke, Little Esther Phillips, Dionne Warwick, Johnny Thunder and Little Julius High, with The Upsetters Band and Gorgeous George, M.C., at the Civic Coliseum in Knoxville, TN on Apr. 17, 1963 (made by Globe Posters of Baltimore);
Back to poster
The Grateful Dead, Chuck Berry and Curly Cook's Hurdy Gurdy Band, with light show by the Edison Light Co., at the Carousel Ballroom in San Francisco, CA on March 29-31, 1968 (poster artwork by Steve Catron);
Back to poster

The Beatles' Royal Command Performance 1963 at the London Palladium, not a concert poster but a for-sale commercial poster licensed by NEMS Enterprises;
Back to poster
Roy Brown and his Mighty, Mighty Men ("Good Rockin'") plus Roy Milton and his Solid Senders plus Camille Howard at the Hillside Theatre in Conway, SC on Feb. 14, 1952 (made by Globe Posters of Baltimore);
Back to poster

Johnny Cash and The Tennessee Two ("I Walk the Line") plus TV and Movie Star Laverne Myllicent and also Gil McElroy and his Swing Band at the Auditorium Fairgrounds in Eugene, OR on June 23, 1961 (made by Tilghman Press of Oakland, CA);
Back to poster
Durwood C. Settles Presents Janis Joplin and Big Brother and the Holding Company plus The Jeff Beck Group and light show by The Psychedelic Power & Light Co. at the Alexandria Arena Roller Rink in Alexandria, VA on Oct. 20, 1968 (poster artwork by D.W. Beeghly);
Back to poster
Aretha Franklin Revue and Orchestra (with seven song titles including "Respect" and "Chain of Fools") at the Municipal Auditorium's Main Arena in Kansas City, MO on July 12, 1968 (made by Globe Posters of Baltimore);
Back to poster
Cowboy Copas, the Louvin Brothers with the Alabama Sandusters and Elvis Presley with Scotty and Bill at the Shrine Auditorium in New Bern, NC on Sept. 13, 1955 (made by Hatch Showprint of Nashville, TN);
Back to poster
Kaleidoscope Inc. Presents Otis Redding, The Bar-Kays and The Grim Reapers at The Factory in Madison, WI on Dec. 10, 1967;
Back to poster
Fats Domino ("Goin' Home," "Nobody Loves Me," "How Long" and "Cheatin'") at the Wig Wam Casino in an unknown location but possibly Kentucky on May 4, 1953 (Tour Direction by Shaw Artists Corporation of N.Y.C.);
Back to poster
Tau Epsilon Phi Presents The Doors at the Rensselaer Polytechnic Institute (RPI) Field House in Troy, NY on Dec. 8, 1967 (looks like a bootleg but is definitely real);
Back to poster
KCBQ presents The Dave Clark Five with Donnie Brooks, The Astronauts and The Blendells at Westgate Park in San Diego, CA on Nov. 14, 1964 (in brand-new mint condition);
Back to poster
Sid Bernstein Presents The Beatles at Shea Stadium in New York, NY on Aug. 23, 1965 (counterfeit poster with incorrect concert date and an outdated picture of the boys);
Back to poster
Amos Milburn and his Big Little Band plus Charles Brown at the Gypsy Tea Room in New Orleans, LA on May 29, 1949 (counterfeit poster with titles of songs that, in some cases, hadn't been released yet);
Back to poster
Elvis Presley with an All Star Cast at the Florida Theatre in Jacksonville, FL on Aug. 10-11, 1956 (counterfeit poster of a different size and on paper stock);
Back to poster
King Recording Stars The Swallows and All Star Dance Orchestra at Gregory's Ballroom in Richmond, VA on June 19, 1953 (made by Globe Posters of Baltimore);
Back to poster
The Beatles, Rory Storm and the Hurricanes, Gerry & The Pacemakers, The Remo Four and Kingsize Taylor and the Dominoes in Operation Big Beat at the Tower Ballroom in New Brighton, Liverpool, England on Nov. 10, 1961;
Back to poster
Little Richard In Person ("Rip It Up," "Slippin and Slidin,'" "Ready Teddy" and "Long Tall Sally") in a Dance & Show at the Meadow Acres Ballroom in Topeka, KS on July 24, 1957 (shown before and after restoration);
Back to poster
"Mr. Be Bop A Lu Lu (sic) Himself" Gene Vincent and the Blue Caps at the Civic Auditorium in Manhattan, KS on Sept. 26, 1958 (also: "You Saw Him with Jayne Mansfield in 'The Girl Can't Help It,' Now See Him In Person! and Dance to his Capitol Recording Band"), beautifully matted and framed;
Back to poster
An original artwork sketch for a Motortown Revue concert poster featuring Stevie Wonder, The Temptations, Gladys Knight and the Pips, Bobby Taylor, Blinky, The Originals and Willie Tyler and Lester, backed by Bohannon's Big Band with the Motown Sound, at the Fox Theatre in Detroit, MI from Dec. 25, 1968 to Jan. 1, 1969 (the final poster had some musicians switched around) (made by Globe Posters of Baltimore);
Back to poster
Chuck Berry and Larry Williams in a "Colored Rock Show & Dance" at the Bluefield Auditorium in Bluefield, WV on Feb. 9, 1958 (also says "Reserved Section for White Spectators") (made by Globe Posters of Baltimore);
Back to poster
Harry James and his Orchestra at Canobie Lake Park in Salem, NH on July 19, 1945, and Glenn Miller and his Orchestra at Shore Acres in Sioux City, IA on July 28, 1940;
Back to poster

The Ohio University Campus Entertainment Committee Presents The Who plus Silk at the Convocation Center in Athens, OH on Nov. 7, 1969.
Back to poster
Back to top
Collecting Rare Concert Posters | Collecting Rare Promo Posters
Personal Favorites | Beatles | Bob Dylan | Billie Holiday
Rolling Stones | Elvis Presley

Rock 'n Roll | Rock | Rhythm & Blues
Multi-Act 1950s | Multi-Act 1960s | Psychedelic | Blues
Jazz | Big Bands | Country | British Paper

Tour-Blank Tutorial | Bootlegs & Repros | Oddity of the Month
Before They Were Famous | The 1970s

PosterCentral.com Home | Cash For Your Stuff | Poster Gallery
Music Memorabilia | Blog | FAQs | Who Are We? | Contact