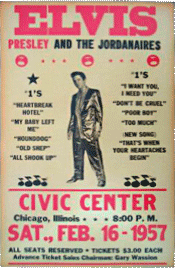 Super-duper-common Elvis boot with irresistible features like 10 hit song titles and a photo of the King in his famous gold lame suit. Forget about authenticity, but we wonder if Gary Wassion (named on the poster) was a real person?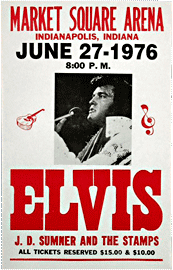 And now we move to the '70s with Elvis Presley commemorative posters (meaning, printed after the fact). Notice how close this design is to the 1957 Elvis boot in our Bootleg Gallery 1. No imagination!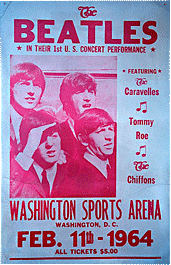 A poster so silly that it barely merits addressing… the Beatles sold tickets so fast in 1964 that there's not a single (conventional) concert poster known for any of their U.S. shows that year. Pure wishful thinking.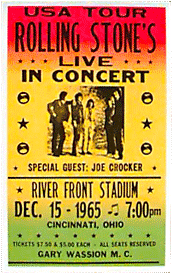 There are so many things wrong with this poster, the goofs may have been intentional to avoid legal trouble. For starters, it's a supposed 1965 concert poster but carries a photo of the Stones from the '70s. And what's with Joe "Crocker"? Someone's having a good laugh somewhere – maybe it's Gary Wassion!
I will pay top dollar for authentic concert posters by any of these artists. In the meantime, details on this page's counterfeit posters: Bobby Darin, Chubby Checker, Paul Anka & Annette, Buddy Holly, Chuck Berry, and The Platters, with Special Guests the Everly Brothers, Bobby Rydell, Fats Domino, Bill Haley and the Comets, Larry Harrell, and the Cordetts (should be Chordettes but it looks like they ran out of room), at the Palace Center in Buffalo, NY, June 7, 1961; Hank Williams and His Drifting Cowboys at the Canton Memorial Auditorium in Canton, OH, New Year's Day 1953; CORE Presents Bob Dylan at the University Regent Theatre, Syracuse, NY, Nov. 3, 1963; Elvis Presley and the Jordanaires at the Civic Center in Chicago, IL, Feb. 16, 1957; Elvis Presley with J.D. Sumner and the Stamps at the Market Square Arena in Indianapolis, IN, June 27, 1976; The Beatles at the Washington Sports Arena in Washington, D.C., Feb. 11, 1964; and The Rolling Stones with Special Guest Joe Crocker (should be Cocker - never mind that he was years away from his American debut) at Riverfront Stadium in Cincinnati, OH, Dec. 15, 1965.
Bootlegs & Repros | Bootleg Gallery 1 | Bootleg Gallery 2 | Bootleg Gallery 3
Tour-Blank Tutorial | Oddity of the Month
Before They Were Famous | The 1970s

PosterCentral.com Home | Cash For Your Stuff | Poster Gallery
Music Memorabilia | Blog | FAQs | Who Are We? | Contact