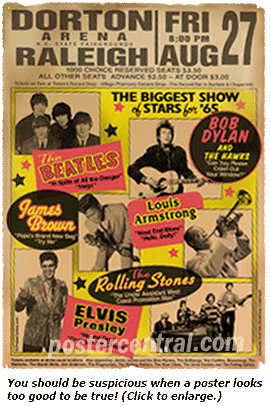 Bootlegs and reproductions are good news for casual fans who just want a cool image on their wall. But when they're exact reproductions down to the smallest detail, they can be problematic. Collectors, of course, generally want only concert posters that were printed before an event to sell tickets.
PosterCentral.com organizes bootlegs and reproductions into the following categories. Be sure to also read our FAQ's for tips on distinguishing repros from originals.
The Well-Meaning Bootlegger
An old poster reproduced with no intention to deceive people into thinking it's an original. The most obvious tip-off is when it's clearly designated as such on the poster. Next best is when the poster is printed in a markedly different size than the original, or with different colors. Sometimes, however, the only difference is in the paper or cardboard stock used, which can make identifying it tricky, especially over the phone.
The Enterprising Profiteer
An old poster that's reproduced very closely or identically to the original, in large quantities. One could assume that intentional deceit was a factor, but just as likely, the bootlegger simply wanted to create an item as close to the original as possible, to maintain its cool factor. He may have given no forethought to the confusion it might cause many years down the road.
The Scoundrel
Worst of all, and the work of a thief: an old poster that's been exactly reproduced with the intent to pass it off as an original. The culprit will oftentimes induce "artificial aging" to a poster by exposing it to harsh elements, or craftily wrinkling a paper poster. When deception like this is well-executed, sometimes only a collector with years of experience can detect it.
The Harmless Neophyte
A poster that was dreamed up from scratch by the bootlegger, and was never a real poster to begin with. A good, and silly, example of this is the multi-artist rock 'n' roll concert poster dated June 7, 1961 from Buffalo, New York, which includes Buddy Holly – who died, of course, in 1959. There are lots of other dime-store examples of rock posters with obvious mistakes - like a 1960s Rolling Stones "concert poster" picturing Ronnie Wood, who didn't join the Stones until 1975. Other totally-made-up posters are more difficult to rule out. Proceed to our Bootleg Galleries to see some examples.
POSTERCENTRAL.COM WANTS TO CAUTION THAT THIS SECTION SHOULD BE USED MERELY AS A GUIDELINE. In no way does it claim to be definitive, and collectors should take every precaution to protect themselves. New bootlegs are always being dreamed up, and unfortunately, so are new ways to deceive collectors.