Concert Poster Tour Blanks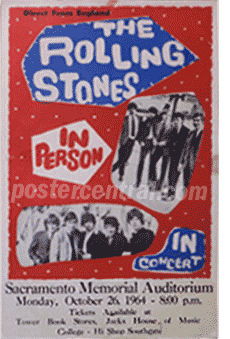 For many of the old concert posters on this site, "tour blanks" were used to great effectiveness.
Color printing is an expensive process, so it would be costly and inefficient for local promoters to design and print their own color posters for just one or two shows.
The solution? The national touring company would design a color poster ahead of time, complete with a large blank white space, usually at the top or bottom. Then a large quantity of these "tour blanks" would be printed.
Then the local venue, date and ticket-price information for each stop on the tour would be entered into the blank space as needed. The number of posters created for any one show could range from just a few to a couple of hundred.
Collectors tend to prefer these posters with pre-printed venue info… where the white space has been filled in with machine type, or "letter-pressed." It just looks better, and more official.
But there are many outstanding concert posters where the information was written in by hand. "Sharpies" didn't exist back then, so we've seen the handwritten info entered in ink pen, pencil, grease pencil, Marks-A-Lot marker, you name it. Remember, permanence was the last on their minds… the idea was to get the message across, sell tickets and then throw the poster away.

Sometimes tour blanks surface with nothing at all filled in. Often these were print overruns. This is less desirable than posters with the info filled in, but they're still collectible. Finally, some people would even trim off the blank white space to frame the color-only portion, in effect defacing the original poster and rendering it the least desirable to collectors.
Pictured here are the four states a tour-blank poster can be found in: machine-printed (above), handwritten, blank and trimmed, for The Rolling Stones' fall 1964 American tour. I will pay top dollar for this Rolling Stones concert poster with the venue info filled in!