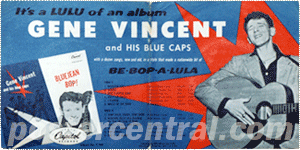 ANYONE CAN APPRECIATE a good concert poster, but record company promotional posters are much more of a niche item.  Some collectors feel, however, that they're an underappreciated and undervalued entity, and may have a rosy future in the collecting world.  Record albums, after all, affected society more than any one concert possibly could have.  What changed the world more: The Beach Boys' Pet Sounds album, or a Beach Boys concert from the same year attended by only 3,000 people?
Everybody's seen one: promo posters usually depict the album cover being plugged and proclaim "New Album Now In Stores," "Out Now!," "New On Columbia Records And Tapes," or any one of a thousand combinations of words.  Since their inception in the '60s (although a few '50s examples are known), promo posters have always been printed in limited quantities and distributed to record stores and retail outlets.  Stores would likely put them up immediately or discard them.  Even if the stores used them, however, they would still end up throwing them away after a few weeks--or maybe they'd give the poster to a good customer who requested it.  (While most of the concert posters PosterCentral.com has discussed were printed on cardboard to withstand weather conditions, almost all promo posters were--and still are--printed on paper.)
In today's collector's market, promo posters from the '50s and older are few and far between; from the '60s, very difficult to find; from the '70s, much more common; and from the '80s-onward, relatively easy to find.  This supply curve is dictated both by the number of posters that were made, and the degree to which people saved them.
As for the demand, it's no different than records: the more collectible the artist, the more sought-after the posters.  However, the further one goes back in time, the more that rule loosens.  Promo posters from the '60s are so scarce that it doesn't take much to make one appealing, especially given the importance of that decade in pop culture history.  I once owned an Imperial Records promo poster for a group called The Love Generation, from 1967.  No biggie, right?  They had two minor chart hits that didn't crack the national Top 70.  But the poster is an amazing '60s timepiece, an outrageous pastiche of color and fashion.  I traded it away only because a friend of mine insisted.  And the odds are, I'll never see one again.
Promo posters may be a niche item only because so few old ones still exist to be collected.  "My gut feeling is that the promo stuff has always been underpriced," says dealer Wayne Rogers.  "But I think a lot of people won't collect it because they know they'll never be able to get it complete.  It's just an impossibility to get the complete collection.  With almost all of these posters, we can count on one hand how many of them are around.  With Beatles VI, I've had only three or four of those since the '70s."  Actually, L.A.-based collector Tony Fornaro twice came within three posters of having an entire run of Beatles promotional posters.  But with the Fab Four, three missing promo posters can mean you're still many thousands of dollars away from a complete collection.  Just ask another L.A.-based collector, Andy Geller – he finally managed to corral them all, the first complete Beatles promo-poster collection anyone's ever known of.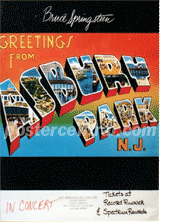 "Rookie" Promo Posters
Using the supply scale I just mentioned, promo posters from the late '80s should be a snap.  But try to find an Atlantic promo poster from 1988 for Y Kant Tori Read, which was, of course, Tori Amos about three years before she became a star.  Almost everybody, undoubtedly, threw those things away once the album bombed (if they kept them that long).  But a few were hung onto, and it's quite a conversation piece on anybody's wall.
That's an interesting aspect of promo posters; before the artist is a star, almost nobody keeps them, making them much rarer.  (Except in the '60s, when nobody kept even the big stars.)  Some artists are popular from the starting gate, like the Pretenders and U2, so many of those posters were saved by fans from the beginning.  But most artists take a couple of albums to get going, and the earliest stuff becomes scarce.  I had to look for quite a while before I finally found Madonna's initial promo poster, from 1983.  Although I'm sure there are many more out there, I rarely see one for sale.  But you're constantly seeing her promo posters for Like A Virgin and Who's That Girl advertised for sale.
The other thing that makes old promo posters scarce is that, even more so than concert posters, it's very inconvenient to keep and store them over a long period of time.  Most of them are around the standard size of 2x3 feet and made of paper, meaning they're usually rolled up and very susceptible to damage at the slightest nudge, unless stored in a tube.  Bent edges, thick layers of dust, tack holes, tears mended with tape, faded colors, crushed in the middle, staple marks... hell, let's just throw the thing away.  I've done it; you've done it.  No wonder there aren't any left from the '50s or '60s.  Sometimes I think the only way a poster is guaranteed to survive is if it's in a frame, but to frame everything we like, most of us would need the wall space of Donald Trump's house--not to mention his income.
Just the sight of rolls and rolls of posters sitting around, gathering dust, year in and year out... they can't be slipped behind the dresser like cardboard concert posters, filed away conveniently like LPs, put in a scrapbook, or easily framed like photographs.  Paper posters have to be the most unwieldy of all rock-oriented collectibles, and after a certain amount of time they just beg to be disposed of.
And posters have a frightening postal fatality rate; you might as well be mailing cartons of fresh eggs.  I don't know how many times I got burned by a dinged or crushed tube--and damaged poster--before I finally implemented the rule, "If you can't stand on the tube, don't use it."  For the best posters, I've been tempted to use lead pipes.
Then there's mailing posters that are already framed.  I've got a couple of A+ disasters under my belt which painfully underscores a point: you should never ship a poster framed in glass, unless you can afford to lose it.  The Asbury Park Rock 'N' Roll Museum once shipped me a rare, framed Bruce Springsteen promo poster that actually hung in the Boss's house in the late '70s.  It was "professionally" packed by a New Jersey merchant who specialized in such things.  When it arrived, all the glass had broken and subsequently torn the paper poster to shreds; it was a total loss.  Talk about irreplaceable; this thing had hung in Bruce's house, and I had to throw it away.  (Actually, UPS hauled it off and paid me some insurance money, which didn't cure my blues.)
But enough with the negatives.  A framed promotional poster hanging on your wall for one of your all-time favorite records can be a source of great pleasure for the rest of your life.  Unlike 78s, 45s, 8-tracks, LPs, cassettes and CDs, posters will never become obsolete as a format.  As long as we have walls and eyes, posters will be desirable and collectable.  I don't know what a 78 rpm record of Bill Haley's "Rock Around The Clock" is worth these days, but I'm guessing not much, because nobody has a 78 rpm turntable anymore. But a mid-'50s promo poster for that groundbreaking single would be an awe-inspiring collectible, although it's doubtful that one ever existed.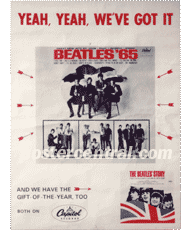 Just What Does Exist?
Now to the fun part.  Just which albums from rock's glorious past had promo posters made for them?  Wouldn't life be grand if there were a poster for every record ever made?  Actually, that's close to being true for the '80s and '90s, but before then, it gets very cloudy and mysterious.  And for many, that's where the fun begins.
Let's start with the most collectible artist of all time, The Beatles, whose posters I collect with a passion.  Since the public's interest in the Beatles is so strong, I'm going to take the time to walk through their American album catalog and describe each poster that's known to exist.  Everything about their Capitol promo posters is inconsistent: they vary significantly in size, shape, color, rarity and value over the group's relatively brief seven-year recording career.
For their first album, Meet The Beatles, Capitol made both a cardboard, easel-backed "placard" and a nearly identical paper flyer that can pass as a small poster.  Both are very difficult to find and easy to sell due to high interest in the group.  But be aware that the cardboard version was bootlegged in large quantities in the '80s and sold through Goldmine ads for many years, and is worthless as a collectible.
Capitol's large promo poster for The Beatles' Second Album is considered by most to be the best Fab Four promo poster.  Only a few are known in Beatle-collecting circles, and its 42" by 54" size gives it a commanding presence.  As an added attraction, Meet The Beatles is also pictured at the bottom of the poster.
Smallish promo posters were issued for the Hard Day's Night soundtrack on United Artists and Capitol's Something New.  Actually, I've seen three different mini-posters for the latter; one is a small, horizontal, black & white strip, another is a red-print-only banner and a third is a full-color album "slick" with the enticing words, "Available About July 20!  Worth Waiting For!"  Any of these could be a so-called "regional" poster, made up by one of Capitol's branches for its territory and printed on the cheap.  Regional posters are generally less desirable to collectors; it's hard enough tracking down items that were distributed and seen nationally. 
The official Hard Day's Night promo poster is actually a "Now In Stock" window sign, a common merchandising tool that's still in use to this day.  Printed on paper instead of cardboard, the album cover is shown in real size and in full color, and a small extension at the top proclaims to store patrons that this new album is "Now In Stock" (or words to that effect).  So the overall size is roughly 12 by 15 inches.  Even though it's small and unimaginative—two things that definitely affects a poster's value--given the popularity of A Hard Day's Night, it's still very collectible.
Capitol made a combination promo poster for the next two Beatles albums, The Beatles' Story and Beatles '65.  Medium-sized and using only two colors, with amateur graphics, this poster perfectly reflects the lazy, naive nature of the pop music industry before it became big.  At least it invokes Beatlemania: red letters at the top state "Yeah, Yeah, We've Got It," with Beatles '65 pictured prominently and The Beatles Story shown in small size down at the bottom.  It's extremely scarce and, in fact, may be a regional poster.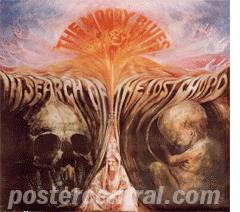 Album Cover Blow-Ups
There's actually another type of promo poster for Beatles '65: a cardboard blow-up of the album cover that's approximately four feet square.  This item raises more questions than it answers.  Was the Beatles '65 blow-up a national issue by Capitol, or just the product of some local branch?  In either case, how many were made--just a couple, or hundreds that were subsequently thrown away?  How many other Beatle albums received the same promotional treatment... no others, or all of them? (Unlikely, since no others have been found.) Even its collector's quotient is subject to debate: since it's nothing more than an enlarged album cover, many poster collectors would undoubtedly turn their nose up at it.
Actually, that's a crucial point with promo posters.  Their appeal--and therefore their value--rests heavily with the words found on them.  If the Beatles '65 album cover blow-up also stated "Featuring The New Hit Single 'I Feel Fine' b/w 'She's A Woman' Capitol 5327," its value would be much higher.  Just follow your imagination from there.  If it also had a banner at the bottom stating "Stars Of The Ed Sullivan Show And Shindig TV Programs, With Bigger Things To Come In 1965," Beatle collectors would really start to salivate over the poster.  But usually collectors have to settle for something as simple as "New Album Out Now."  Nothing's more boring than an album cover blow-up with no words added, but sometimes that's all you got. (Three such promo posters from the late '60s that come to mind: The Moody Blues' In Search of the Lost Chord and Jethro Tull's first two albums.) 
Anyway, 1965 produced two Beatles albums for which there are no known official promo posters, The Early Beatles and Help!  Actually, a black & blue poster exists for the latter, but it's a real oddball that shares billing with classical music and the like, and was probably a regional issue.  There's also an out-and-out fake existing for Help!, with all of the group's preceding albums pictured along the bottom. (The Early Beatles was actually a reissue at the time, of the group's first UK album from two years before, so Capitol probably felt that a promo poster wasn't justified.)
There's a nice sepia-toned promo poster for Beatles VI from the summer of '65, with the enticing words "The Perfect Gift For The June Grad!" across the top. The album is not considered an important part of the Beatles' canon, but in its favor, 1965 is regarded as a special year by some collectors.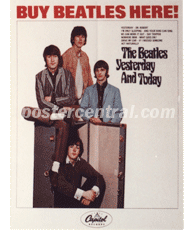 Not Everything Is Rare
After all this talk of rarity, it's surprising that the next three Beatles promo posters are actually somewhat common.  Someone, somewhere, at some time in the '90s found a cache of mint, original Rubber Soul promo posters.  With the supply relatively high, one tends to surface on eBay with regularity, it seems.  It's among the more delightful of Beatle promo posters, with "12 Brand New Songs--Never Before Available In The U.S.A." emblazoned across the top.  Along the bottom are the words which make the poster: "Great For Giving!  Or Just Groovy Listening!"  It's a lovely timepiece, for one of the Fabs' most popular albums.
One of the oddest quirks of irony surrounding the Beatles' next album, Yesterday and Today, is that the Capitol promo poster for the "butcher cover" version is much more common than the "trunk cover" promo poster.  Plenty of butcher posters were made, with the word "Incredible!" emblazoned across the top, and sent out to retailers.  But, as everyone knows, the album was quickly withdrawn, and many of the posters went unused.  Even in 1966, people smelled a collector's item and saved them in droves.  Today, you can buy a mint original for a fairly reasonable price.  But beware: because of the album cover's cachet, the poster has been bootlegged several times.  The most common knock-off has a small red blemish by the song titles listed on the album cover. 
On the other hand, Capitol apparently made far fewer copies of the trunk cover promo poster.  The words across the top are as boring as the album cover itself: "Buy Beatles Here!"  Nobody in his right mind saved one.  The poster today is not in heavy demand--for a Beatles poster, that is.  That's good, because they're few and far between.
 Like the butcher cover, Capitol's promo poster for Revolver has been heavily bootlegged. Repros are being sold in stores to this day.  It's difficult to tell the original from the knock-off, the primary difference being the type of paper used.  Once again, you're best off buying from a reputable dealer.  The poster perpetuates the album title's pun with the word "Bang!" appearing in bright yellow letters.  A cute yellow-colored submarine along the bottom adds immensely to the poster's appeal.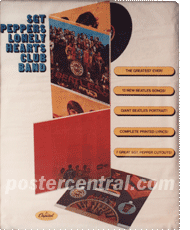 The Summer Of Love
By the summer of 1967, the Beatles were household names and Sgt. Pepper was the event of this, or any other, season.  So one would assume that Capitol's promo poster for Pepper would have been saved by anyone and everyone, even after being up in stores all summer.  If only that were true.  The fact that Pepper is so rare is one of the great poster mysteries to me.  Perhaps nobody saved the poster because it's not exciting, just a merchandising piece made to move product (but aren't they all?).  Among the words Capitol used to flog the album is one statement that was eerily prophetic: "The Greatest Ever!"
The large red promo poster for Magical Mystery Tour--proclaiming "New! For Christmas"--seems to be about as rare as Pepper.  Its size (36" by 48") and the album's crazy cover art make it a compelling poster.
Capitol got lazy for the first Apple promo poster by the Beatles, but the cover of 1968's White Album may have left them little choice.  For the promo poster, the label simply took the photo-montage poster that was included in every copy sold, and printed "It's Here!" in red letters across the top.  Believe me, it sounds better than it looks.  It's also one of the two Beatles promo posters for which a stash was found, and to this day it can be had fairly reasonably.
There's some debate as to whether an official promo poster exists for the Yellow Submarine soundtrack album.  If it does, it's certainly unconventional.  Cliff Yamasaki of Let It Be Records in San Francisco describes a two-sided poster that has a Yellow Submarine with a blue background on one side, and portholes with the Beatles peering through on the other.  There's no label logo and no album catalog number, but "that's the Yellow Submarine LP promo poster," Yamasaki states.  "I don't care what anyone else says."  The poster also came folded up inside Billboard, with a few additional words printed for the magazine readers.
Apple's artwork for the Abbey Road promo poster was equally unimaginative; they simply took the words "Beatles" and "Abbey Road" and placed them against the brick wall found on the back cover.  No song titles, no "New Beatles Album," no use whatsoever of the classic cover photograph.  I think it's one of the drabbest Beatles promo posters, but a major collector friend of mine calls it his favorite Beatles promo poster.  Just like the music itself, posters are art and, therefore, entirely subjective.
Although there are the usual countertop displays and such, Apple apparently didn't make a standard promo poster for the Hey Jude compilation album.  They made up for that by making two different promo posters for the group's other 1970 album, Let It Be.  The bigger version has the words "Now Available" and "Apple Records, Cartridges & Cassettes."  The smaller version is simply a square that reproduces the album cover.  Although we're now into the '70s with the two Let It Be posters, they're both still quite scarce.  (The smaller version was reprinted by Capitol in the mid-'70s, distinguished by a label logo appearing beneath the album cover.  Serious collectors want nothing to do with that one.)
Indeed, the disheartening news for many reading this article is that any Beatles promo posters issued after their break-up are worth almost nothing compared to the '60s stuff.  Because I worked in a record store in 1973, I once had three sets of Capitol's large promo posters for the "red and blue" greatest-hits albums; they're worth so little that one set is now taped up in my kids' bedroom.  Likewise, posters and displays for Hollywood Bowl, Love Songs and other '70s releases sell for about the same as any other artist... $20, $30, whatever.
Apple's promo posters for the Beatles' solo projects are in a little bit more demand.  Again, the earlier you get, the scarcer the poster, generally.  I've seen a promo poster for Yoko Ono/Plastic Ono Band, but I'm not sure if there's an equivalent for John Lennon's matching first solo album.  There's definitely one for Imagine, although it's just the poster which came with the album, with "It's Here" stenciled in red at the top (shades of the White Album).  The rarest of all Beatles solo promo posters is said to be the one for Lennon's 1975 Rock 'N' Roll album.
That covers The Beatles.  PosterCentral.com wishes it could paint the same type of scenario for rock's other legends, especially in the '60s, but the posters just aren't there.  Or are they?  That's the fun of it; in many cases, we just don't know.
Columbia Records made a marvelous Bob Dylan cardboard counter display in 1963 that doubles as a poster because it opens up flat.  It pictures his first two albums in color, and is just as rare as you'd assume it would be.
After that, you have to jump to 1966's classic Blonde On Blonde to find any kind of Columbia promo poster for Dylan.  Even then, the label's art department simply took the gatefold album jacket, opened it up and printed the same words that were found on the LP's shrink wrap sticker when it was first issued ("Bob Dylan's New Album," etc.).  Framed, it looks terrific, but few have survived the years, and the ones that did are usually pretty dog-eared.
For the 1967 Bob Dylan Greatest Hits promo poster, Columbia took the popular Milton Glaser psychedelic poster which was included in the LP, and stuck a bright yellow banner across it that states, "Now here's a hang-up for you."  (Clever usage of the term "hang-up," which had just entered the American lexicon.)  It then explains that you get the Glaser poster free inside every album. 
Dylan's John Wesley Harding album had to settle for a simple "Now in Stock"-type 12x15" window flyer as its promo poster, much like the Beatles' Hard Day's Night American soundtrack album.  This one says, "The New Bob Dylan Album Is Here!"
I've never seen a promo poster for 1969's Nashville Skyline, but starting with 1970's Self Portrait, Columbia made "Now In Stock" posters for several of the albums that followed, and kicked into the regular promo-poster mode with 1973's hideous Dylan album (although that was just a small album cover blow-up).  At the end of the '70s, CBS took it to extremes by making giant, four-foot-square album cover blow-ups of Street Legal and Slow Train Coming.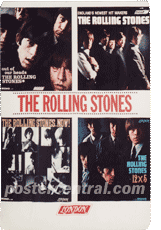 The Stones Get Short Shrift
The Rolling Stones are a prime candidate for collectible promo posters, but unfortunately there's almost nothing from the '60s.  Luckily the Stones' American label back then, London Records, did make a Rolling Stones 1964 promo poster for their first album, in the form of a banner measuring 8 by 22 inches.  That album, England's Newest Hit Makers, came with a different poster folded up inside, which people often mistake for a promo poster. 
The next year, in 1965, London killed four birds with one stone by creating a large, flat cardboard store display (with easel-back) that depicted the group's first four album covers.  Each LP cover was shown in real size, but only the words "London" and "The Rolling Stones" were added to the artwork. Because it's frameable, it's about as close as we'll ever get to a full-sized Stones promo poster from their early heyday.  There is also supposedly a paper version of this, but PosterCentral.com has yet to see or confirm one.  (Stones collectors might also cite a 1967 promo piece which was an album-sized copy of the 3-D Satanic Majesties photograph, but nothing more). 
The turn of the decade brought a couple of Stones "promo posters" that some collectors feel were made to promote specific albums, but I'm not sure.  I once caught wind of a "promo poster" for Let It Bleed, but disappointingly, it turned out to be a poster I'd seen many times before: a blue-ish collage of the individual group members (with Mick Jagger's face the largest) and the words "The Rolling Stones."  That's it; no album name, no album cover, no "In Stores Now," etc.  Not a bad timepiece, I suppose, but it certainly doesn't qualify as an album promo poster in my book.
And some Stones collectors claim that London made a promo poster of sorts for the group's first album of the '70s, Get Your Ya-Ya's Out!  Again, I would tend to disagree. It's a small square paper poster, without a record-company logo, that pictures each of the group members on stage and states, simply, "The Rolling Stones In Concert."  Although definitely not a concert poster tour blank, it may have been produced more to promote the group's many in-concert appearances of the early '70s.  (Granted, maybe I'm wrong.)
1971's Sticky Fingers produced an interesting poster that I'm fairly certain is a bona fide album promo poster, therefore making it the group's first.  It was mailed out folded (like so many early promo posters were) and depicts the famous pose of the group standing, half naked, each holding a copy of the album strategically placed over his private parts.  The best clue that it's an Atlantic/Rolling Stones Records promo poster is the small, red "tongue logo" that appears in a corner, although nary a word of fine print accompanies it.
There was definitely a promo poster for the Stones' high-water-mark album, 1972's Exile On Main Street.  Unfortunately, instead of using the album cover's intriguing collection of old photos of circus freaks, the label blew up just one of the pictures--an angry-looking fellow with three large balls in his mouth--and colored it bright red & yellow.  No question that it gets your attention.
Pretty much every Stones album from that point forward has its own promo poster.  It should also be pointed out that Ampex Tapes, in conjunction with Atlantic Records, made an in-store poster for Sticky Fingers that features a drawing of Mick Jagger.  Ampex made several in-store posters featuring major artists during the late '60s, because, after all, eight-track tape cartridges were all the rage and cassettes were just beginning their ascent.  Although they're usually classified by dealers as promo posters, many collectors aren't crazy about the Ampex posters, feeling they're a "poor man's" promo poster.  They usually featured drawings of the artists, not photographs, which cheapened their appearance somewhat.  But they were made for such major acts as Led Zeppelin, The Doors, Creedence Clearwater Revival, Cream and The Moody Blues.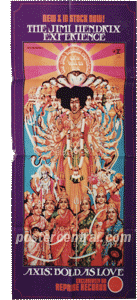 Zeppelin Off To A Slow Start
Led Zeppelin collectors might have no choice but to get the group's 1969 Ampex Tapes poster if they want a poster involving Zep's first three albums.  It's one of the true shames of promo poster collecting that Atlantic didn't see fit to make any Zeppelin promo posters until their weirdly titled fourth album in 1971.  They made inflatable plastic blimps for the albums, to hang from record store ceilings, but not posters.  There was also a cardboard, easel-backed Led Zeppelin promo display made for their second album in 1969, which could always be framed.
When Atlantic finally came out with a Led Zeppelin promo poster, you'd think they would've at least pictured the first three Zep albums at the bottom of the fourth-album poster; that would have been some consolation.  But it was not to be. Album-cover "minis" are a cool artistic touch, and a common practice, with promo posters.  Still, the Zeppelin IV poster is a beaut, and features the timepiece tag line, "Also Available On 8 Track Stereo Tape & Cassette."
Of the five Jimi Hendrix albums released when he was alive, I'm aware of promo posters for three of them – Axis: Bold As Love, Electric Ladyland and 1970's live Band Of Gypsys (on Capitol).  We can only wish there had been one made for the groundbreaking Are You Experieced? in 1967.  Interesting to note that the Electric Ladyland promo poster contained a small yellow circle where stores could write in the price they were charging for the new LP.
Instead of an Are You Experienced?-specific promo poster, in the late '60s Warner Bros. tended to produce generic black & white cardboard promo posters that simply carried a photo of the artist, and no mention of an album.  (Columbia did the same thing with Loggins & Messina, Miles Davis, etc.) This prevented us from enjoying promo posters for specific classic albums like Van Morrison's Astral Weeks and Moondance.  (The first Morrison promo poster I'm aware of is for 1972's St. Dominic's Preview.) 
Of course, as soon as you lay down a rule like that, a poster pops up to break it; that's part of the fun.  Jethro Tull was a Warner Bros./Reprise artist in the late '60s, and--as mentioned earlier--there were small album cover blow-up promo posters for their first two records (both from 1969) plus a separate black & white promo poster for their first album, This Was.  None of them look like regional posters, so go figure.
Another rule-breaker is the Grateful Dead's first album from 1967, The Grateful Dead.  A small, yellow, psychedelic poster sent out at the time doesn't carry the standard ingredients of a promo poster, but it displays the album's catalog number and is highly sought-after by Dead collectors.  Nicknamed "Elephant" for the animal that appears prominently, the poster is frightfully scarce.  There are actually two variations of this poster.  The more common version--if you can call it that--was included in cartons of the Dead's first album when it was shipped out to record stores, so every one was quarter-folded.  Dead collectors prefer the unfolded version, however, which was also printed on slightly thicker paper.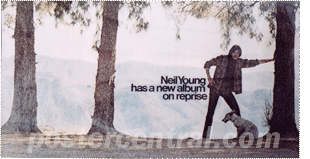 The Best Of The Rest
It's a shame that Neil Young's first solo album never had its own promo poster, but his second album, Everybody Knows This Is Nowhere, and his third LP, 1970's After The Gold Rush, did.  The Everybody one is rarely seen and somewhat small; Gold Rush was promoted with a large, horizontal poster that utilized the LP's gatefold photo of Neil lounging on a couch, backstage, after a concert.
Technically, these were not Young's first promo posters, however.  His first band, Buffalo Springfield, released three official studio albums on Atco, and the label made a great poster to promote 1967's Buffalo Springfield Again.  The large poster shows the striking album cover in full color, and topped it off with a key slogan with the summer of love stamped all over it: "At Your Groovy Record Store Now."  (As far as PosterCentral.com knows, that was the only Springfield promo poster.)
The Who is another act that begs for '60s promo posters, but not until 1969's Tommy did one appear.  That was more of a long, horizontal banner for the new rock opera, making it impractical to frame, but it nonetheless qualifies.  But their first four American albums?  Nada.  And not until 1971's Who's Next did their promo posters start to flow regularly. 
Same thing with The Beach Boys. I've heard tales of a Pet Sounds promo poster, but until I see proof of one... in fact, I know of no Beach Boys '60s promo posters (album-specific) until 1967.  Same with Creedence Clearwater Revival; just a flat cardboard stand-up for Bayou Country, but it contains zero words.  Likewise for Pink Floyd; we know of a small, flat cardboard easel-back for their first album, with the words "The Sound Of The Underground" effectively placed above the album cover.  That could be framed as a mini-poster.  Jefferson Airplane?  There's a large, striking poster for After Bathing At Baxter's, but it's the only '60s example from the Airplane that PosterCentral.com is aware of. 
Speaking of Pink Floyd, there are promo posters for 1970's Ummagumma and 1971's Meddle, but remarkably, one was never made for 1973's classic Dark Side Of The Moon.  It's hard to fathom why Capitol/Harvest wouldn't have made one for that record, but Floyd specialist Stanford Thompson confirms that one was never made--at the time the album was released, that is.  A poster does exist for Dark Side that also depicts the More soundtrack and A Nice Pair, both of which came out later in 1973, making it an "after-the-fact" promo poster (a practice which is almost unheard of). 
During its heyday, Motown was known for making the occasional store display, but promo posters from the '60s--just like Motown Revue concert posters--seem to be as rare as hen's teeth.  I was told once of a Detroit record store that still displayed a promo poster for The Supremes' second album, many decades after the fact, but could never confirm it.  As for any others, we don't have a clue as to what exists--or once existed--out there.  We can only hope.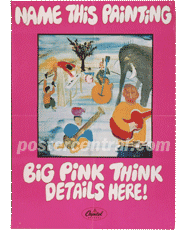 Clapton Is God
As far as anyone knows, Eric Clapton's first promo poster was a blue & red Cream poster printed up by Atco Records in the summer of 1968.  "Turn On To Cream," it states at the top, and superimposed over a concert shot are the names of Cream's three albums at the time: Fresh Cream, Disraeli Gears and, most prominently, Wheels Of Fire (their current release).  It's a nice timepiece, and not nearly as difficult to find as most other '60s promo posters.  Two versions were printed; one says "Atco Records" at the bottom, and the other plugs an underground Los Angeles radio station of the time (KPFK-FM).
Clapton has stated that he came to America in the late '60s with far-flung hopes of joining The Band.  To promote The Band's first (and landmark) album, 1968's Music From Big Pink, Capitol printed a very unusual promo poster which displeased the group to no end.  Their album cover had been painted by none other than Bob Dylan, because they had spent years on the road as his back-up group.  According to Barney Hoskyns' biography Across The Great Divide, Capitol dreamed up a contest--without consulting anybody--to give the Dylan painting a name, and tied it to an equally ludicrous "Big Pink Think Campaign."  Capitol designed a promo poster that was bathed in florescent hot pink and featured the cryptic caption, "Name This Painting/Big Pink Think/Details Here!"  It was almost as if some words had been accidentally transposed, and The Band's name was nowhere to be found (although it's possible they hadn't yet decided to call themselves The Band, which was a last-minute choice).  Anyway, all of this was in direct contrast to the low-key, back-to-the-roots image that the group wished to portray, and the silly campaign—along with the poster--was quickly snuffed out.
Before we leave the '60s, one must address The Doors, especially since a promo poster was apparently made for every one of their albums.  The Doors (with "Light My Fire") and Strange Days, both released in 1967, had promo posters with the same layout: an unusual color photo of the group in large size, and the album's cover in miniature at the bottom (Strange Days pictures both album covers).  The poster for The Doors uses the photograph from the album's back cover, and Strange Days features a striking, fairly rare photo of the group, adding to the poster's collectibility.  The Rock 'N' Roll Hall of Fame and Museum deemed these two posters worthy enough for inclusion in its Jim Morrison exhibit in the '90s.
Elektra's promo poster for the third Doors album, Waiting For The Sun, reportedly follows the same pattern, although I've not seen one.  The poster for their fourth album, The Soft Parade, uses the album's inner gatefold artwork that I feel doesn't work artistically, but others may love it.  I also haven't seen the poster for the Doors' first album of the '70s, Morrison Hotel/Hard Rock Cafe, but I'm told one exists.  And the promo poster for the final Doors album, L.A. Woman, is ugly as sin, utilizing the black and yellow crucifix figure found on the inner sleeve of initial LP pressings.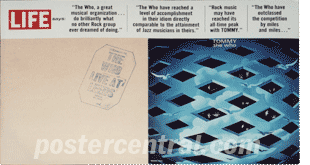 Into The '70s
The '70s were kicked off by one of pop music's biggest-selling artists ever, Elton John.  Although promo posters for his second U.S. album, 1971's Tumbleweed Connection, can be found from time to time, there's a much smaller and scarcer one for its predecessor, 1970's Elton John, in the form of a long, thin banner.  Elton's next two "albums" were a weak soundtrack and a live record, but starting with 1971's Madman Across The Water, the promo posters were cranked out for pretty much every LP.
The biggest rocker to emerge from the '70s, Bruce Springsteen, was well-represented by promo posters.  Typical album cover blow-ups were made for his first two albums, with Greetings From Asbury Park being bigger in size.  Both had a plain white margin at the bottom, so they often doubled as concert-poster tour blanks with local venue information to be written in by hand.  Bruce's second album, The Wild, The Innocent & The E Street Shuffle, also had a standard-sized yellow & black promo poster made for it, which pictured his first two album covers at the bottom.  But beware: bootleg copies were made at the height of Bruce's popularity.
Columbia's promo poster for Springsteen's third, landmark album, 1975's Born To Run, was also heavily bootlegged when Brucemania was at its peak.  To detect the phony versions of both of these posters, one telltale sign should be looked for: the album-cover minis at the bottom are sharp on the original, and somewhat dark and muddy on the repro. 
For Springsteen's fourth album, Darkness On The Edge Of Town, Columbia made two promo posters.  One was, again, the giant four-foot-square album cover shot that CBS was using in the late '70s; a compelling sight, but impractical to frame or find the wall space for.  The other was a standard-sized vertical poster, actually quite attractive, with all four of his albums pictured at the bottom, in full color for the first time.
One aspect that makes any promo poster more desirable is unique photos or artwork.  Reprise's promo poster for Neil Young's On The Beach, released in 1974, features a startling outtake photograph from the album cover's photo session.  And Atlantic's promo poster for Y Kant Tori Read, mentioned here earlier, also features a glorious photograph that wasn't part of the album's graphics.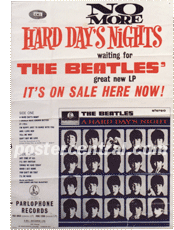 The View From Overseas
Everything I've covered involves American promotional posters; European promos are a whole other ball of wax.  Since the late '70s, English promo posters have appeared in abundance from a large number of dealers, always a red flag for collectors.  The posters are either being reprinted unscrupulously, or the initial printings involve huge overruns that allow a surplus of them to spill over into the commercial marketplace.  Again, aesthetically, it's great to have a London subway poster for a Smiths or Kate Bush album pinned up on your wall, but from a collector's point of view, PosterCentral.com warns you: they may not always be kosher (as in, original). 
On the other hand, European and English promo posters from the '60s seem to have been printed in as random and haphazard a fashion as they were in America, and are just as rare.  British EMI made colorful promo posters for the Beatles' Sgt. Pepper and White Album that are far more attractive than Capitol's American counterparts.  The Sgt. Pepper poster uses the famous photo of the group found on the LP jacket's inside gatefold, with the proclamation "New Beatles LP Here Now" in red letters. And the EMI promo poster for the Beatles' White Album has an interesting twist because the record, of course, didn't become known as the White Album until some time after its release; its real title is The Beatles.  Therefore, "THE BEATLES' Special Double Album" is what the poster proclaims, adding "Now On Sale" and plugging the fact that color photos were enclosed in each album.  The four photos are prominently displayed, all framed in hot pink.  It blows away the drab American promo poster for the White Album.
Interestingly, British EMI doesn't seem to have made any promo posters for earlier Beatles albums.  You occasionally see a purported promo poster for 1963's With The Beatles, but most collectors considered it suspect.  On the other hand, there may be photographic proof of a promo poster for the group's first-ever album, Please Please Me.  There are actually some pictures from 1963 of the group standing in front of a large blow-up of the Please Please Me album cover.  Whether this was a "one-off" poster created just for this occasion, or an actual promo poster that EMI had printed at the time, has yet to be determined.  If the latter is true, it would be extremely collectible.
PosterCentral.com is unaware of any '60s album promo posters out of England for many of the other greats--Dylan, The Who, Cream, etc.  But new singles--as opposed to LPs--were often promoted in Great Britain with smallish promo posters in the '60s. Such posters exist for Jimi Hendrix's "Crosstown Traffic," Pink Floyd's "See Emily Play" and The Small Faces' "Itchycoo Park," for example.  There were many others.





Pete Howard was the publisher and editor of ICE magazine for 19 years, and was a Contributing Editor to Rolling Stone magazine for seven.  He now operates this Web site, PosterCentral.com.  Pete welcomes letters and communication regarding collectible music posters, and will endeavor to help readers appraise their posters.  He can be reached by phone at 805.540.0020, via e-mail at pete@postercentral.com, or by snail mail at PO Box 3045, San Luis Obispo, California, 93403 U.S.A.
Details on the posters found above:
The Beatles' Second Album Capitol Records promo poster from March 1964, also plugging Meet The Beatles at the bottom plus "Their New Single Hit – 'You Can't Do That' and 'Can't Buy Me Love'";
Back to poster
Crosby, Stills & Nash "Together" Atlantic Records cardboard promo poster/display for their 1969 debut album;
Back to poster
The Doors' Strange Days 1967 promo poster from Elektra Records, also plugging their debut album The Doors down below;
Back to poster
Pink Floyd Tower Records cardboard promo poster/display for their 1967 debut album The Piper At The Gates Of Dawn, stating "The Sound of the Underground";
Back to poster
Columbia Records 1966 cardboard promo poster for "Bob Dylan's New Album" Blonde on Blonde, a "Deluxe 2-Record Set Featuring 'Rainy Day Women #12 & 35' and 'I Want You'" (looks like the album jacket with the shrink wrap sticker affixed, but it's definitely a separate poster on a flat piece of cardboard, with no LP spine, the white box printed as part of the artwork, and adhesive strips on the back for applying it to walls, etc.);
Back to poster
Carly Simon large 1972 promo poster for her new album No Secrets with plugs down below for her first two Elektra albums, Carly Simon and Anticipation;
Back to poster
1968 British promo poster for The Rolling Stones' Beggars Banquet album, somewhat small in size but coveted nonetheless because one was never produced in America;
Back to poster
Capitol/Angel Records 1965 promo poster for The Beatles' Help! Album, proclaiming, "Gift Problems? You'll Find Help! And a Wonderful World of Other Capitol & Angel Gift Ideas In Our Record Department" (may be a regional poster);
Back to poster
"It's a Lulu of an album: Gene Vincent and His Blue Caps' Bluejean Bop! on Capitol Records" 1956 promo poster.  Also states, "With a dozen songs, new and old, in a style that made a nationwide hit of 'Be-Bop-A-Lula.'" This may have doubled as a mailer which was meant to convince merchants to stock up on the LP, but its blank reverse easily makes the argument that it was also meant to be posted in stores;
Back to poster
Bruce Springsteen's Greetings from Asbury Park 1973 Columbia Records promo poster, which a concert promoter in Geneva, NY also used as a concert poster to sell tickets to his upcoming Springsteen show two years later, on July 11 & 12, 1975;
Back to poster
Beatles '65 promo poster which also doubles as a promo poster for The Beatles' Story on Capitol Records from Christmastime 1964, which is why it states "And We Have the Gift-of-the-Year, Too," pointing to the latter album;
Back to poster
1968 Deram Records promo poster for The Moody Blues' In Search of the Lost Chord, basically just a simple blow-up of the album cover;
Back to poster
"Buy Beatles Here!" 1966 Capitol Records promo poster for The Beatles' Yesterday and Today album, the "trunk cover" version which replaced the infamous, banned butcher cover;
Back to poster
Capitol Records' 1967 in-store promo poster for The Beatles' Sgt. Pepper's Lonely Hearts Club Band album, with the words "The Greatest Ever!", "13 New Beatles Songs!", "Giant Beatles Portrait!", "Complete Printed Lyrics!" and "7 Great Sgt. Pepper Cutouts!";
Back to poster
Columbia Records' 1967 small in-store promo poster for Bob Dylan's John Wesley Harding album, with the words "The New Bob Dylan Album Is Here!"  The item is basically a paper album slick of the LP cover with a 2.5-inch black banner added at the top (although all printed as one piece);
Back to poster
The Rolling Stones on London Records 1965 cardboard promo poster/display, picturing their first four LPs: England's Newest Hit Makers: The Rolling Stones, 12x5, The Rolling Stones Now! and Out Of Our Heads. A paper version may have also been made;
Back to poster
1968 Reprise Records promo poster for The Jimi Hendrix Experience's Axis: Bold As Love;
Back to poster
1969 Reprise Records promo poster for Neil Young's second solo album Everybody Knows This Is Nowhere, with a minimalist, almost "teasing" approach giving very little information;
Back to poster
The Band's Music From Big Pink Capitol Records promo/contest poster of a very unusual nature, from 1968;
Back to poster
Decca Records in-store promo cardboard stand-up poster/display for The Who's 1969 album Tommy and 1970 album Live at Leeds. The sign liberally quotes Life magazine, about the best print media exposure any act could hope for at the time;
Back to poster
EMI/Parlophone 1964 in-store promo poster for The Beatles' A Hard Day's Night album, with exceptional wording, type fonts and details (all song titles listed);
Back to poster
Large 1967 Atco Records promo poster for Buffalo Springfield Again, the group's second album, with the catchy summer-of-love wording "At your groovy record store now";
Back to poster
1970 Uni Records promo in-store poster/banner for Elton John's debut U.S. album Elton John, again using a minimalist approach, depicting John's band members and nothing else;
Back to poster
Decca Records in-store promo cardboard stand-up poster/display for The Who's 1967 album The Who Sell Out, faded from prolonged exposure to daylight or florescent store lights.
Back to poster
Back to top
Collecting Rare Concert Posters | Collecting Rare Promo Posters
Personal Favorites | Beatles | Bob Dylan | Billie Holiday
Rolling Stones | Elvis Presley

Rock 'n Roll | Rock | Rhythm & Blues
Multi-Act 1950s | Multi-Act 1960s | Psychedelic | Blues
Jazz | Big Bands | Country | British Paper

Tour-Blank Tutorial | Bootlegs & Repros | Oddity of the Month
Before They Were Famous | The 1970s

PosterCentral.com Home | Cash For Your Stuff | Poster Gallery
Music Memorabilia | Blog | FAQs | Who Are We? | Contact